»

Recipes

»

Rabbit

»

Sweet And Sour Rabbit
Sweet And Sour Rabbit Recipe
Rabbit Meat with Pineapple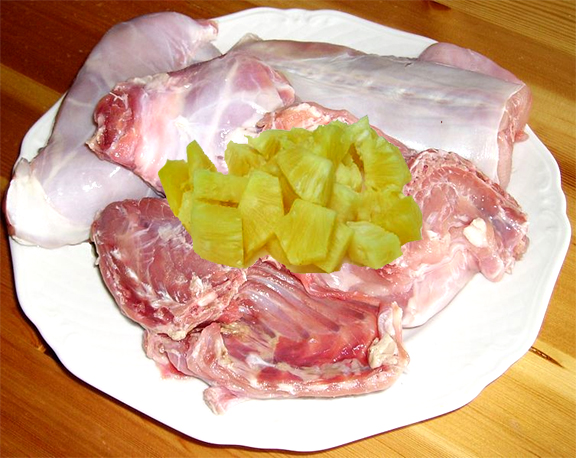 Ingredients
| | | |
| --- | --- | --- |
| | Rabbit | 2 1⁄2 Pound |
| | Flour | 3⁄4 Cup (12 tbs) |
| | Cooking oil | 2 Tablespoon |
| | Pineapple juice | 1 Cup (16 tbs) |
| | Vinegar | 1⁄4 Cup (4 tbs) |
| | Pineapple chunks | 1 Cup (16 tbs) |
| | Green pepper | 1 |
| | Cornstarch | 1 1⁄2 Tablespoon |
| | Sugar | 1⁄4 Cup (4 tbs) |
| | Salt | To Taste |
| | Pepper | To Taste |
Nutrition Facts
Serving size
Calories 421 Calories from Fat 86
% Daily Value*
Total Fat 10 g14.8%
Saturated Fat 2.1 g10.3%
Trans Fat 0 g
Cholesterol 153.1 mg
Sodium 163 mg6.8%
Total Carbohydrates 38 g12.7%
Dietary Fiber 0.97 g3.9%
Sugars 20.9 g
Protein 43 g86.4%
Vitamin A 1.9% Vitamin C 71.7%
Calcium 3.4% Iron 38.9%
*Based on a 2000 Calorie diet
Directions
Disjoint rabbit.
Combine flour, salt and pepper to taste; dredge rabbit in flour mixture.
Brown rabbit evenly in hot oil in skillet.
Add pineapple juice, vine- gar and 1/2 teaspoon salt.
Cover; simmer for 40 min- utes or until rabbit is tender.
Add pineapple chunks and green pepper.
Cook until green pepper is tender.
Combine cornstarch and sugar; add 1/2 cup water.
Stir cornstarch mixture into rabbit mixture gradu- ally.
Cook, stirring constantly, for 5 minutes or until thickened.