»

Recipes

»

Asian

»

Sweet Sour Pot Roast
Sweet Sour Pot Roast Recipe
Sweet Sour Pot Roast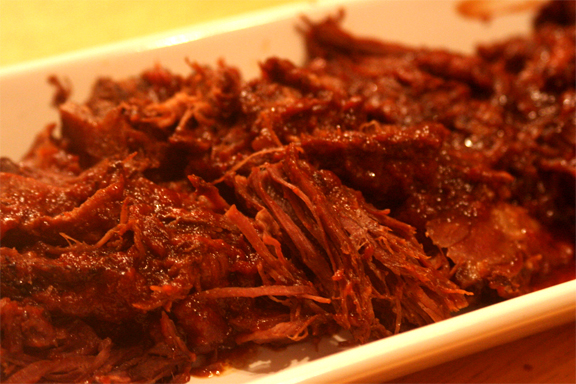 Ingredients
Shortening

2 Tablespoon

Pot roast

5 Pound

Onion

1⁄2 Cup (8 tbs)

, sliced

Vinegar

1 Cup (16 tbs)

Brown sugar

3⁄4 Cup (12 tbs)

Nutmeg

1⁄4 Teaspoon

Salt

1⁄2 Teaspoon

Flour

1 1⁄2 Tablespoon
Nutrition Facts
Serving size
Calories 544 Calories from Fat 329
% Daily Value*
Total Fat 37 g56.2%
Saturated Fat 14.4 g71.8%
Trans Fat 0.3 g
Cholesterol 124.7 mg
Sodium 198.8 mg8.3%
Total Carbohydrates 15 g4.9%
Dietary Fiber 0.19 g0.74%
Sugars 12.8 g
Protein 37 g73.2%
Vitamin A 0% Vitamin C 0.83%
Calcium 3.5% Iron 18.2%
*Based on a 2000 Calorie diet
Directions
MAKING
1. In a large Dutch oven or casserole, heat the shortening.
2. When the fat is hot, sear the pot roast on all sides.
3. Remove the roast onto a platter.
4. Add onions to the fat in the casserole and sauté till they are lightly browned and soft.
5. Return the roast to the casserole.
6. Add the vinegar, sugar, nutmeg and salt.
7. Cover the skillet and reduce the flame to low.
8. Simmer meat for 3 – 3 1/2 hours until meat is tender.
9. Remove meat onto a serving platter.
10. To thicken the broth, add 1 ½ tablespoons of flour and simmer, stirring constantly until thick

SERVING
11. Pour the sauce over the roast.
12. Carve the meat at the table using a steak knife.
13. Serve with roast vegetables and mash if you like.