»

Recipes

»

Fish

»

Sweet Mustard Fish
Sweet Mustard Fish Recipe
This Sweet Mustard Fish recipe is an easy-to-prepare side dish. An amazingly delicious recipe, Sweet Mustard Fish is a side dish that you would surely love to talk about with us!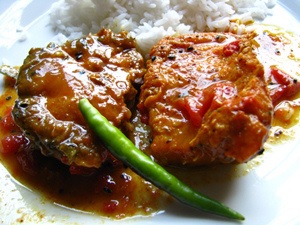 Ingredients
Cod

1 Pound

Salsa

1⁄2 Cup (8 tbs)

(thick and chunky)

Honey

2 Tablespoon

Dijon mustard

2 Tablespoon
Nutrition Facts
Serving size: Complete recipe
Calories 556 Calories from Fat 58
% Daily Value*
Total Fat 6 g9.8%
Saturated Fat 0.8 g4%
Trans Fat 0 g
Cholesterol 195.1 mg
Sodium 888.8 mg37%
Total Carbohydrates 36 g12%
Dietary Fiber 1.1 g4.6%
Sugars 30.5 g
Protein 85 g169.4%
Vitamin A 15.3% Vitamin C 22.4%
Calcium 16.2% Iron 13.2%
*Based on a 2000 Calorie diet
Directions
Arrange fish in baking casserole that has been sprayed with nonstick cooking spray.
Bake at 450 degrees, uncovered, for 4 to 6 minutes.
Drain any liquid.
Combine remaining ingredients and spoon over fish.
Return to oven for 2 minutes to heat sauce.
Image Courtesy :
http://upload.wikimedia.org/wikipedia/commons/d/d1/Macher_Jhol.JPG