»

Recipes

»

Waffle

»

Sweet Milk Waffles
Sweet Milk Waffles Recipe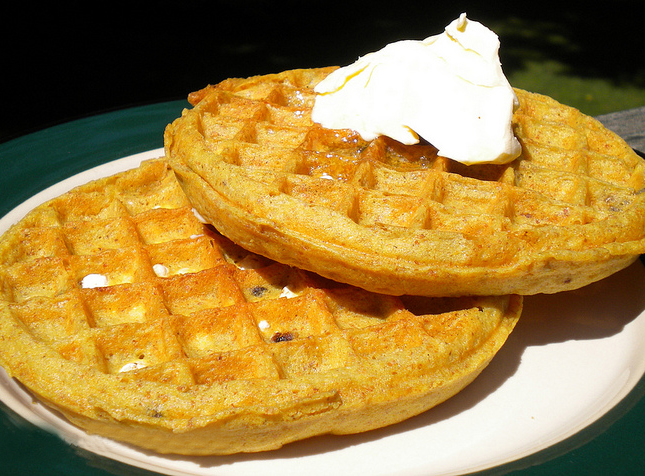 Ingredients
Plain flour

2 Cup (32 tbs)

Sugar

2 Tablespoon

Baking powder

1 Tablespoon

Salt

1⁄2 Teaspoon

Eggs

3

, separated

Milk

2 Cup (32 tbs)

Sugar

2 1⁄2 Tablespoon

Melted butter

1⁄2 Cup (8 tbs)
Nutrition Facts
Serving size: Complete recipe
Calories 2627 Calories from Fat 1072
% Daily Value*
Total Fat 121 g186.9%
Saturated Fat 69.7 g348.6%
Trans Fat 0 g
Cholesterol 911.9 mg
Sodium 2555.5 mg106.5%
Total Carbohydrates 336 g112.2%
Dietary Fiber 7.2 g28.9%
Sugars 92.8 g
Protein 52 g104.4%
Vitamin A 77.8% Vitamin C
Calcium 175.2% Iron 31.4%
*Based on a 2000 Calorie diet
Directions
Sift together the flour, sugar, baking powder and salt into a mixing bowl.
Beat the egg yolks until pale yellow.
Gently heat the milk and the sugar until the sugar dissolves.
Cool.
Pour the egg yolks, cooled milk and the melted butter into the flour mixture.
Stir until smooth.
Set aside and allow to stand for at least an hour.
Beat the egg whites until stiff.
Carefully fold into the batter.
Fill a hot lightly oiled waffle iron two-thirds full with the batter and cook until the steam stops escaping. Serve with ice cream.
Image Courtesy :
http://www.flickr.com/photos/theimpulsivebuy/7172027913/