»

Recipes

»

Cabbage

»

Sweet And Sour Red Cabbage
Sweet and Sour Red Cabbage Recipe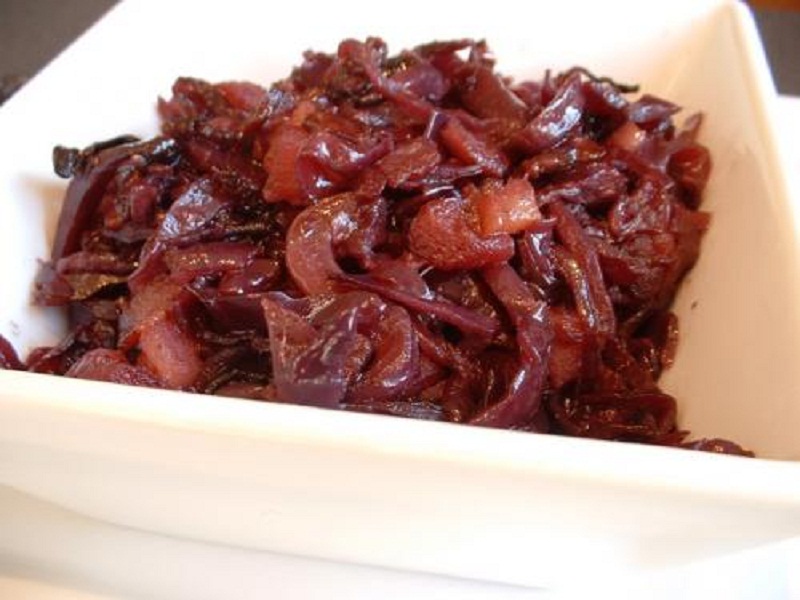 Summary
Preparation Time
10 Min
Cooking Time
2 Hr 0 Min
Ready In
2 Hr 10 Min
Difficulty Level
Easy
Health Index
Average
Servings
4
Ingredients
Bacon slices

4

, diced

Flour

2 Tablespoon

Brown sugar

1⁄4 Cup (4 tbs)

Salt

1 Teaspoon

Pepper

1⁄8 Teaspoon

Vinegar

1 Cup (16 tbs)

Water

1⁄2 Cup (8 tbs)

Red cabbage

1 Medium

, shredded

Onion

1

, chopped
Nutrition Facts
Serving size
Calories 302 Calories from Fat 16
% Daily Value*
Total Fat 2 g2.9%
Saturated Fat 0.44 g2.2%
Trans Fat 0 g
Cholesterol 1.7 mg
Sodium 689.4 mg28.7%
Total Carbohydrates 68 g22.5%
Dietary Fiber 13.9 g55.7%
Sugars 37.9 g
Protein 11 g21.1%
Vitamin A 139.5% Vitamin C 598%
Calcium 29.4% Iron 30.2%
*Based on a 2000 Calorie diet
Directions
MAKING
1. Heat a small skillet over a high flame and sauté the bacon to render fat and until it is golden and crisp.
2. Use a slotted spoon to remove the bacon onto paper toweling and keep aside to be used later.
3. Drain drippings from the skillet, except 1 tablespoon.
4. Stir the in flour, sugar, salt and pepper and blend well.
5. Combine the water and vinegar and add gradually to the flour mixture, stirring constantly.
6. Tip the mixture into a slow-cooker or a crock pot.
7. Add the cabbage and onions to the pot and toss to mix with the flour mixture.
8. Cover the pot with its lid
9. Slow cook the cabbage on HIGH for about 2 hours or if you are not in a hurry, cook on LOW for about 4 hours.
10. Once cooked, stir to mix the ingredients and serve

SERVING
11. Spoon into a serving dish and garnish with reserved fried bacon.
12. Serve hot as a side dish or use as a relish topping if you like.