»

Recipes

»

European

»

Swedish

»

Swedish Meatball
Swedish Meatball Recipe
Are you looking for a dish easy to cook? Then try this Swedish Meatball recipe. You would have no trouble at all in cooking it and its taste would also be uncompromising. People would be impressed at your culinary skill.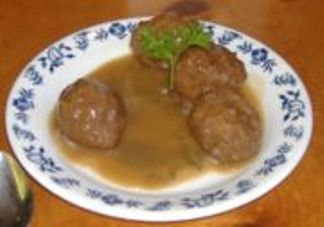 Ingredients
Salt

To Taste

Pepper

To Taste

Hamburger

2 Pound

Ground pork

1 Pound

Bread crumbs

1 Cup (16 tbs)

Brown sugar

2 Tablespoon

Eggs

2

, slightly beaten

Milk

1⁄4 Cup (4 tbs)

(Add Milk To Eggs To Make 3/4 Cup)
Nutrition Facts
Serving size
Calories 711 Calories from Fat 349
% Daily Value*
Total Fat 39 g59.5%
Saturated Fat 15.1 g75.7%
Trans Fat 0.8 g
Cholesterol 329.4 mg
Sodium 429.5 mg17.9%
Total Carbohydrates 14 g4.7%
Dietary Fiber 0.28 g1.1%
Sugars 8.9 g
Protein 72 g144.3%
Vitamin A 2.9% Vitamin C 1.3%
Calcium 8.3% Iron 40.4%
*Based on a 2000 Calorie diet
Directions
Stage1-In a bowl mix together hamburg and pork.

Stage2-Add other ingredients to meat and mix together until soft.

Stage3-Add 1/4 teaspoon allspice and blend.

Stage4-Form meatballs and place on cookie sheet.

Stage5-Bake at 325 degrees fareinhite for about 50 minutes.

Stage6-Remove meatballs from cookie sheet and put into serving dish.

Stage7-Make brown gravy (from a package mix) and add to meatballs. Serve hot over rice.