»

Recipes

»

Spanish

»

Suspiros A La Limena
Suspiros A La Limena Recipe
Suspiros A La Limena is a delicious dessert which I always crave for. Try this Suspiros A La Limena; I bet, you will surely get a lot of compliments for this.
Suspiro de limeña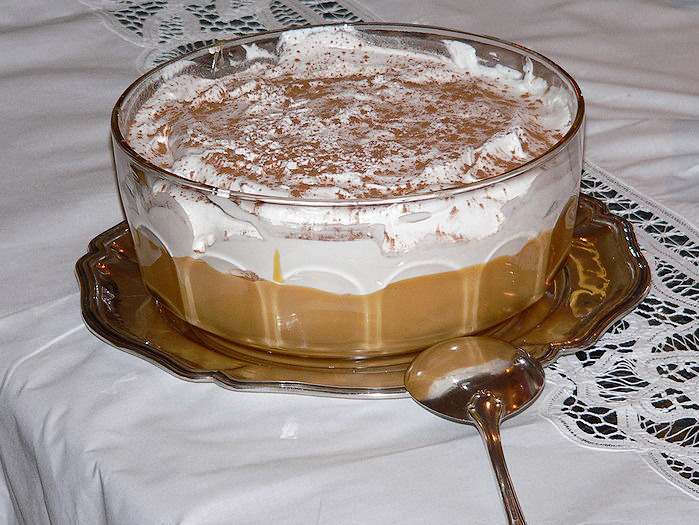 Ingredients
Milk

2 Cup (32 tbs)

Condensed milk

2 Cup (32 tbs)

Sugar

1⁄2 Cup (8 tbs)

Cinnamon sticks

2

(3 Inch Each)

Egg yolks

8

Port wine

1 Cup (16 tbs)

Dark brown sugar

3⁄4 Cup (12 tbs)

Egg whites

3

Powdered sugar

1 1⁄2 Cup (24 tbs)

Ground cinnamon

1 1⁄2 Teaspoon
Nutrition Facts
Serving size: Complete recipe
Calories 4528 Calories from Fat 889
% Daily Value*
Total Fat 100 g154%
Saturated Fat 53.5 g267.5%
Trans Fat 0 g
Cholesterol 1733.9 mg
Sodium 1173.2 mg48.9%
Total Carbohydrates 800 g266.7%
Dietary Fiber 6.1 g24.4%
Sugars 776.3 g
Protein 92 g184.2%
Vitamin A 77.2% Vitamin C 27.3%
Calcium 254.5% Iron 36.1%
*Based on a 2000 Calorie diet
Directions
Pour both milks into a pan; add sugar and cinnamon sticks.
Boil gently 20 minutes.
Remove cinnamon sticks.
In the top of a double boiler, beat the yolks lightly, then gradually drizzle in hot milks, stirring constantly.
Place top pan over hot but not boiling water, simmer, and stir custard at least 10 minutes, until fairly thick. (Never allow custard to boil or it will curdle.) Set aside until cool, then pour into 8 stemmed glasses.
Chill.
Heat the wine and brown sugar until the sugar melts.
Cool and chill.
Just before serving, prepare meringue.
Beat the egg whites until soft peaks form.
Sprinkle on powdered sugar and continue beating until peaks become stiff and shiny.