»

Recipes

»

Date

»

Sugared Date Squares
Sugared Date Squares Recipe
Your search for great a delicious snack to kill the sweet carvings ends here. Try out these Sugared Date Squares. Filled with the goodness of dates, this is a great recipe. I love the crunch of the walnuts added to this. Make it and let me know what you think of this.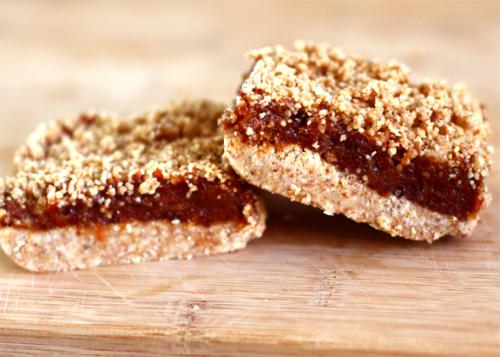 Ingredients
Sifted flour

1 1⁄4 Cup (20 tbs)

Baking powder

1 Teaspoon

Salt

1⁄2 Teaspoon

Dates

1 Cup (16 tbs)

, chopped

Sugar

3⁄4 Cup (12 tbs)

Shortening

1⁄2 Cup (8 tbs)

Water

1⁄2 Cup (8 tbs)

Vanilla

1 Teaspoon

Chocolate piece

6 Ounce

Eggs

2

Milk

1⁄4 Cup (4 tbs)

Walnuts

1 Cup (16 tbs)

, chopped

Powdered sugar

1 Cup (16 tbs)
Nutrition Facts
Serving size: Complete recipe
Calories 4745 Calories from Fat 2056
% Daily Value*
Total Fat 230 g353.4%
Saturated Fat 66.2 g330.9%
Trans Fat 13.5 g
Cholesterol 464.6 mg
Sodium 1599.4 mg66.6%
Total Carbohydrates 655 g218.3%
Dietary Fiber 25.2 g100.7%
Sugars 486.9 g
Protein 50 g100.3%
Vitamin A 11.6% Vitamin C 3.4%
Calcium 68% Iron 80.5%
*Based on a 2000 Calorie diet
Directions
GETTING READY
1) Grease and flour a 13 x 9 x 2-inch pan.

MAKING
2) In a bowl, combine and sift the flour, baking powder and salt.
3) In a saucepan, combine the dates, sugar, shortening, water and vanilla.
4) Simmer till the dates soften.
5) Take off from the heat.
6) Add in the chocolate pieces.
7) Stir till melted, then beat in the eggs.
8) Stir in the flour mix, alternating with milk,
9) Add in the walnuts and mix well.
10) Spread batter in the baking pan.
11) Place in the oven at 350 degrees, and bake for 20 to 25 minutes.
12) Cool in the pan and cut into squares.

SERVING
13) Roll in powdered sugar.