»

Recipes

»

Tomato

»

Stuffed Tomatoes
Stuffed Tomatoes Recipe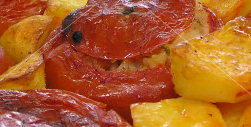 Ingredients
Tomatoes

6 Medium

Ground beef

1⁄2 Pound

Chili powder

1 Teaspoon

Sugar

1 Teaspoon

Salt

1⁄2 Teaspoon

Pepper

1⁄2 Teaspoon

Dried oregano

1⁄4 Teaspoon

Uncooked instant rice

2 Cup (32 tbs)

Dry bread crumbs

1⁄2 Cup (8 tbs)

Butter/Margarine

2 Tablespoon

, melted

Water

2 Tablespoon
Nutrition Facts
Serving size
Calories 418 Calories from Fat 131
% Daily Value*
Total Fat 15 g22.6%
Saturated Fat 6.3 g31.7%
Trans Fat 0 g
Cholesterol 37.4 mg
Sodium 244.5 mg10.2%
Total Carbohydrates 60 g19.9%
Dietary Fiber 3.4 g13.8%
Sugars 4.4 g
Protein 14 g27.5%
Vitamin A 28.2% Vitamin C 27.1%
Calcium 5.5% Iron 13.8%
*Based on a 2000 Calorie diet
Directions
1. Cut a thin slice off the top of each tomato. Leaving a 1/2-in.-thick shell, scoop out and reserve pulp. Invert tomatoes onto paper towels to drain.

2. Meanwhile, in a skillet, brown beef; drain. Add tomato pulp, chili powder, sugar, salt, pepper and oregano; bring to a boil. Reduce heat; simmer 45 to 50 minutes or until slightly thickened, stirring occasionally. Add rice; mix well. Simmer 5 to 6 minutes longer or until rice is tender. Stuff tomatoes and place in a greased 13-in. x 9-in. x 2-in. baking dish. Combine bread crumbs and butter; sprinkle over tomatoes. Add water to baking dish. Bake, uncovered, at 375 degrees F for 20 to 25 minutes or until crumbs are lightly browned.

<<- 1 teaspoon chili powder >> Is this chili powder ad in Mexican chiles with oregano etc. or is it ground Chile powder as in capsicums / mirch? I know the word chile has several spellings depending on your country, but chile/chili/chilli/chilly does get confusing and as this contains oregano it is perhaps Mexican style. I make the Greek Domates Yemistes but they contain lean ground lamb and mint and mizithra cheese and many other ingredients, so I am not sure which chile/chili/chilli/chilly this recipe calls for, although I have used Aleppo Chile in the Greek ones.
Posted on:
11 July 2007 - 6:39pm