»

Recipes

»

Dill

»

Stuffed Dills
Stuffed Dills Recipe
If you plan to cook an out of the ordinary Side Dish, then you should probably go for these Stuffed Dills. Get all set to serve this cheese stuffed dish! Believe me, this so simple...and the results....even better!!!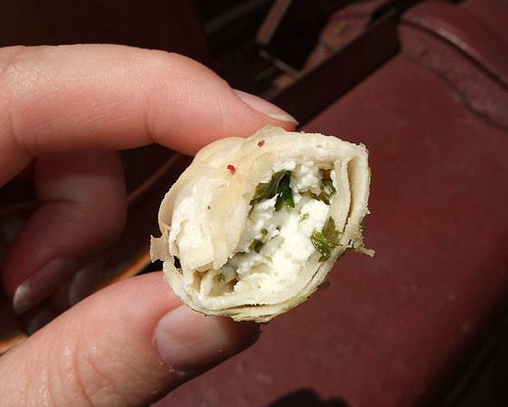 Ingredients
Cream cheese

3 Ounce

Worcestershire sauce

1 Tablespoon

Walnuts

1⁄2 Cup (8 tbs)

, chopped

Dill pickles

3 Large

(Cored)
Nutrition Facts
Serving size: Complete recipe
Calories 640 Calories from Fat 530
% Daily Value*
Total Fat 62 g95.1%
Saturated Fat 19.5 g97.5%
Trans Fat 0 g
Cholesterol 93.5 mg
Sodium 1156 mg48.2%
Total Carbohydrates 15 g5.1%
Dietary Fiber 4.3 g17.1%
Sugars 6.6 g
Protein 13 g26.3%
Vitamin A 25% Vitamin C 5.5%
Calcium 18.4% Iron 16%
*Based on a 2000 Calorie diet
Directions
MAKING
1) In a mixing bowl, add cream cheese, Worcestershire sauce and salad dressing and blend till smooth.
2) Add in the walnuts and mix well.
3) Use the mix to stuff the pickles.
4) Refrigerate for 1 hour, till the cheese firms.

SERVING
5) Cut into 1/4-inch slices and serve.
Image Courtesy :
http://www.flickr.com/photos/thegirlsny/3676324150/