»

Recipes

»

Chicken

»

Stuffed Cornish Game Hens
Stuffed Cornish Game Hens Recipe
Stuffed Cornish Game Hens is popular with my family, it is sure to be so with your family too. A great main dish recipe is one like this. This recipe is a good way to use Chicken. I am certain both of us will be in agreement that this Stuffed Cornish Game Hens is truly delectable.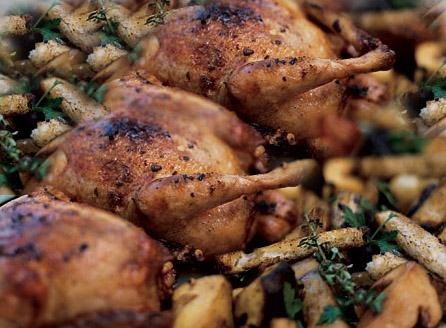 Ingredients
Cornish hens with giblets-4

Salt

To Taste

Butter

2 Tablespoon

Cornmeal muffins-2

Bread slice

1

Saltine crackers

8 To taste

Rice

3/4 Cup (16 tbs)

, cooked

Celery

1/4 Cup (16 tbs)

, chopped

Pecans

1/4 Cup (16 tbs)

, chopped

Onion

1 Tablespoon

, chopped

Poultry seasoning

1 Teaspoon

Egg

1
Directions
MAKING
1)In a saucepan add giblets, 2 cups water, 1/2 tea- spoon salt and butter.
2)Cover the pan and cook on medium heat for 45 minutes.
3)Keep 1/2 cup stock and then chop giblets.
4)In a large bowl, crumble muffins, bread and crackers and add reserved stock, giblets, rice, celery, pecans, onion, poultry seasoning, salt to taste and egg. Mix nicely.
5)Fill this mixture into hens and wrap them with aluminum foil.
6)Take a baking sheet and put the hens. Bake at 375 degrees for 1 hour.
7)Remove foil and bake for 10 minutes to brown hens.

SERVING
9)Serve stuffed Cornish game hens immediately.