»

Recipes

»

Tomato

»

Stuffed Tomatoes
Stuffed Tomatoes Recipe
Stuffed Tomato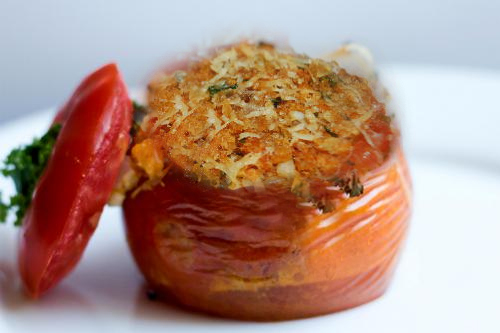 Ingredients
Firm Tomatoes - 8 nos, large

Oil

3 Tablespoon

Onion

1/2 Cup (16 tbs)

, minced

Garlic

2 Clove (5gm)

, chopped

Pork shoulder

3/4 pound

Ground veal

1/4 pound

Salt

1 1/2 Teaspoon

Pepper

1/4 Teaspoon

Parsley

2 Tablespoon

, chopped

Mushrooms

1
Directions
GETTING READY
1) Preheat the oven to 375F.

MAKING
2) Rinse the tomatoes. Slice off a portion of their top and scoop the seeded pulp out. Reserve the pulp and the sliced tomato.
3) Add oil into a 9X12" baking pan. Spread it evenly along the pan.
4) Into the baking pan, add in a mixture of onion, garlic and tomato pulp. Heat in the oven for about 7 minutes.
6) Transfer the heated mixture back into a large bowl. Add in the pork shoulder, veal, onion, cloves, salt and pepper. Mix well.
7) Stuff the tomatoes with the meat mixture.
8) Arrange them on the baking pan.
9) Bake for about 30 minutes.
10) Top each of the stuffed tomato with a sliced tomato and a mushroom. Secure them using a toothpick.
11) Bake for 5 more minutes.

SERVING
12) Serve the Stuffed Tomatoes garnished with grated cheese sprinkled on top.