»

Recipes

»

Pickle

»

Stuffed Red Chilli Pickle
Stuffed Red Chilli Pickle Recipe
The stuffed red chili pickle is spiced chili pickle recipe. Made with spices like cumin, mustard and aniseed, the stuffed red chili pickle is flavored with lemon juice to taste and sealed with oil.
Stuffed Red Chilli Pickle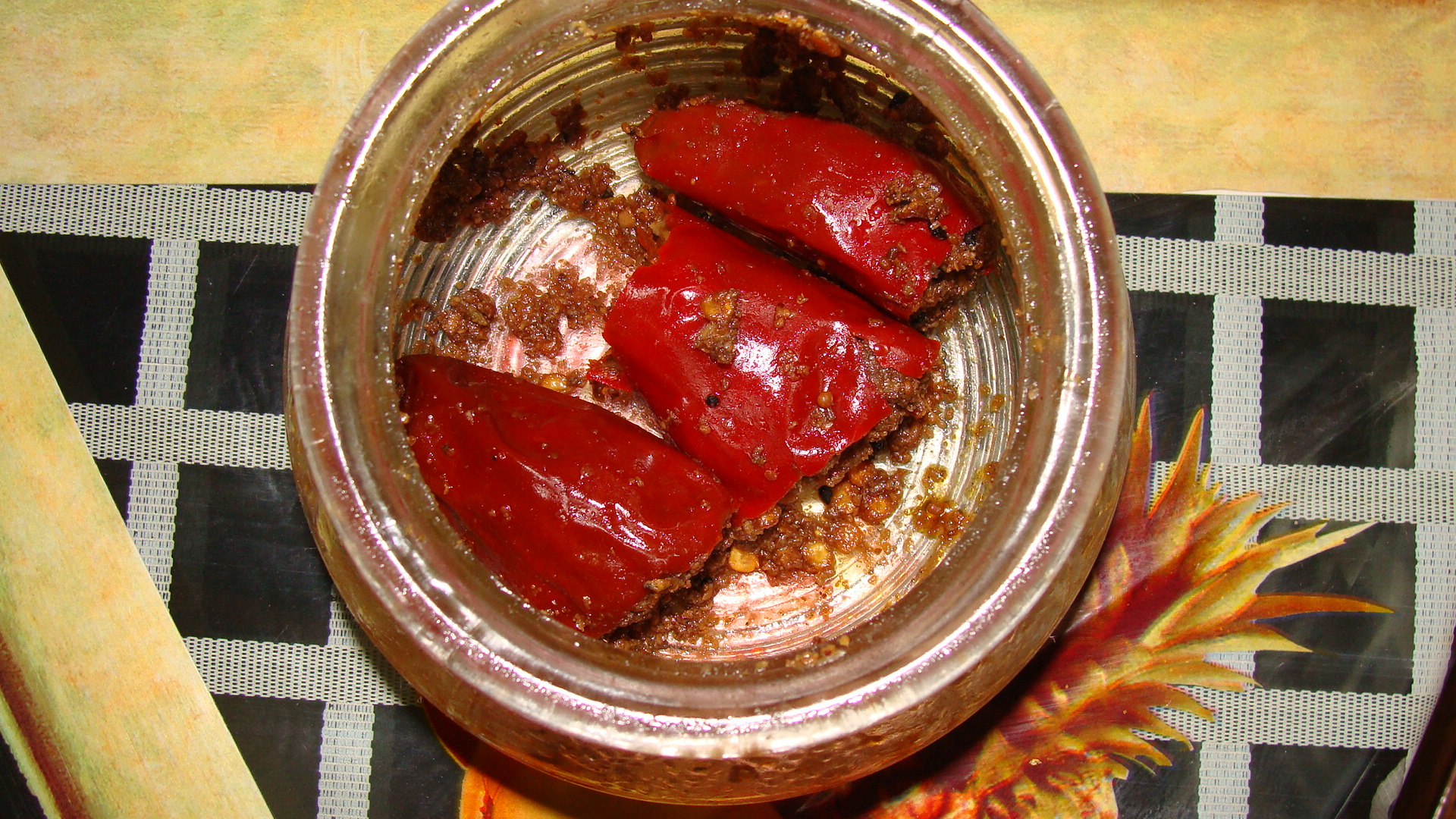 Summary
Health Index
Just Enjoy
Cuisine
Indian
Ingredients
Red chillies

240 Gram

(Big Ones For Stuffing)

Fenugreek seeds

4 Teaspoon

, roasted and powdered

Chili pepper

3 Teaspoon

Aniseed

8 Teaspoon

Salt

8 Teaspoon

Spices

6 Teaspoon

, ground

Mustard powder

4 Teaspoon

Cumin powder

4 Teaspoon

Lemon

2

, juiced

Mustard oil

1 Cup (16 tbs)

, heated and cooled

Amchoor

4 Teaspoon
Nutrition Facts
Serving size: Complete recipe
Calories 2590 Calories from Fat 2143
% Daily Value*
Total Fat 243 g374%
Saturated Fat 27.6 g138.2%
Trans Fat 0 g
Cholesterol 0 mg
Sodium 15661.3 mg652.6%
Total Carbohydrates 117 g39.2%
Dietary Fiber 40.2 g161%
Sugars 28.2 g
Protein 24 g47.8%
Vitamin A 60.4% Vitamin C 819.8%
Calcium 104.8% Iron 149.5%
*Based on a 2000 Calorie diet
Directions
1) First remove the stems of the chillies and then take out the seeds from the stem side hole carefully with the back of a hair pin.
2) Make a smooth mixture of all the ingredients with little oil and lemon juice.
3) Stuff the chillies tightly with that mixture and store them in a jar.
4) Pour oil over them.
5) Keep for one month and shake the jar carefully every 2 or 3 days.