»

Recipes

»

Pork

»

Apple & Celery Stuffed Pork Chops
Apple & Celery Stuffed Pork Chops Recipe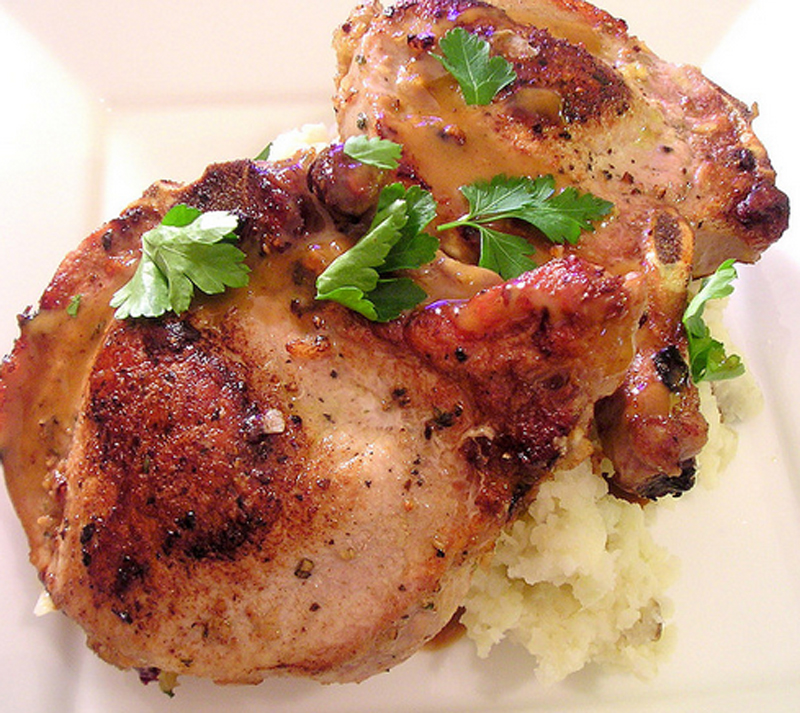 Ingredients
Pork chops

5 Large

Bread slice

2

, dried

Water

1/2 Cup (16 tbs)

Apple

1/4 Cup (16 tbs)

, finely chopped

Onion

2 Tablespoon

, finely chopped

Celery

1/4 Cup (16 tbs)

, finely chopped

Salt

1/2 Teaspoon

Pepper

1/8 Teaspoon

Dash of poultry seasoning

Fat

1 Tablespoon
Directions
Pork chops should be 1 inch thick.
Have the butcher cut a pocket in chop for stuffing.
Soak dried bread in water, then squeeze dry.
Mix well with apple, onion, celery, and seasonings to make stuffing.
Divide stuffing equally and stuff in each chop.
Heat Skillet and add fat.
Brown chops on both sides over medium heat.
Season with salt and cover.
Reduce heat to low and cook until tender—about 45 minutes.
Image Courtesy :
http://www.flickr.com/photos/allthingschill/2316396260/