»

Recipes

»

Mushroom

»

Cream And Cheese Stuffed Mushrooms
Cream And Cheese Stuffed Mushrooms Recipe
Stuffed Mushroom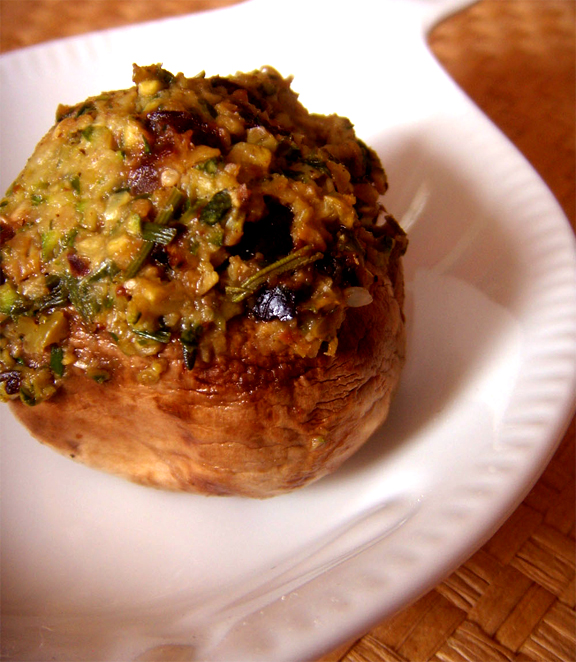 Summary
Preparation Time
15 Min
Cooking Time
40 Min
Ready In
55 Min
Difficulty Level
Medium
Health Index
Average
Servings
6
Ingredients
Mushrooms

1 pound

Butter

4 Tablespoon

, melted

Onions

3 Tablespoon

, finely chopped

Butter

1 Tablespoon

Madeira

1/4 Cup (16 tbs)

Fine dry bread crumbs - 1/4 cup

Swiss Cheese

1/4 Cup (16 tbs)

, grated

Parmesan cheese

1/4 Cup (16 tbs)

, grated

Parsley

4 Tablespoon

, minced

Tarragon

1/2 Teaspoon

Pepper

1/4 Teaspoon

Heavy cream

2 Tablespoon
Directions
GETTING READY
1. Preheat oven moderate to 375°F.
2. Discard stems from mushrooms. Mince and squeeze with a kitchen towel to absorb extra moisture.

MAKING
3. Take 2 tablespoons melted butter and glaze the caps with it.
4. In a roasting pan keep the hollow-side-up.
5. Heat butter and sauté onions till soft.
6. Stir in mushroom stems and cook stirring over high heat for 5 minutes until moisture disappears.
7. Mix Madeira and boil until moisture disappears.
8. Take off from heat.
9. Add bread crumbs, cheeses, parsley, tarragon, and pepper. Mix thoroughly.
10. Add cream and blend.
11. Spoon the stuffing into mushroom caps.
12. Refrigerate until ready to use.
13. Dot melted butter over mushrooms and bake for 15 minutes until caps are tender.

SERVING
14. Serve hot.