»

Recipes

»

Stuffed Grape Leaves
Stuffed Grape Leaves Recipe
Stuffed Grape Leaves is simply irresistible. Try this amazingly delicious Stuffed Grape Leaves recipe; I am sure you will always tempt to prepare this for every party!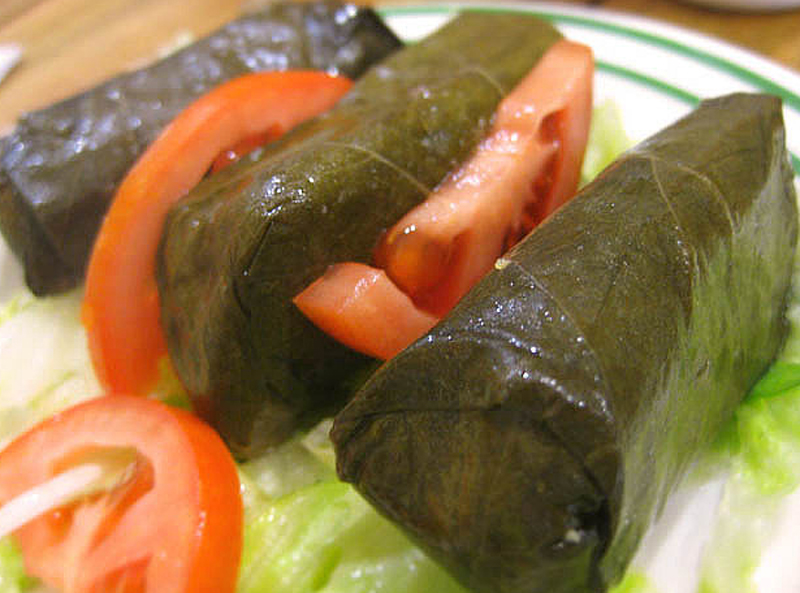 Ingredients
Grape leaves

48 Ounce

(One 8 Ounce Jar)

Minced onion

1 1⁄2 Cup (24 tbs)

Butter

4 Tablespoon

White rice

1⁄3 Cup (5.33 tbs)

Water

3 Cup (48 tbs)

Lean ground beef

1 3⁄4 Pound

Minced dill/1 teaspoon dried basil

1 1⁄2 Teaspoon

Salt

1⁄2 Teaspoon

Ground black pepper

1 Teaspoon

Plain yogurt

1 Pint

, well beaten
Nutrition Facts
Serving size: Complete recipe
Calories 4689 Calories from Fat 1371
% Daily Value*
Total Fat 157 g241.1%
Saturated Fat 70.1 g350.4%
Trans Fat 0 g
Cholesterol 646.4 mg
Sodium 1819.9 mg75.8%
Total Carbohydrates 551 g183.8%
Dietary Fiber 152.9 g611.6%
Sugars 108.2 g
Protein 259 g518.7%
Vitamin A 7541.2% Vitamin C 268.1%
Calcium 558% Iron 294.3%
*Based on a 2000 Calorie diet
Directions
Blanch grape leaves in hot water for 30 seconds to remove excess brine, then quickly drain and submerge them in cold water.
Pat dry with paper towels.
Select 36 of the best leaves for stuffing.
Lightly brown onions in 2 tablespoons butter over medium heat.
Add and stir rice for 2 minutes to thoroughly coat with butter.
Pour in 1 cup water, cover pan, and simmer approximately 10 minutes, until rice absorbs all liquid.
Remove pan from the heat, stir in ground beef, dill, salt, and 1/2 teaspoon freshly ground pepper.
Stir for several minutes, making sure filling is well combined.
To stuff and shape dolmas, start by laying leaves shiny side down, tips pointing away from you.
Place a teaspoon or two of meat mixture in the center, fold over the sides, then roll gently but firmly away from you toward the tip until you have neat little cylindrical dolmas.
Cover bottom of a large heavy casserole with unused leaves.
Place dolmas side by side, seamside down, in layers in the casserole.
Top with 2 tablespoons butter and 2 cups water.
Weigh down lightly with a plate to keep them from unrolling.
Cover, place over moderate heat, and simmer 40 minutes.
Image Courtesy :
http://www.flickr.com/photos/mesohungry/3673906146/