»

Recipes

»

Flounder
Stuffed Flounder Recipe
Stuffed Flounder Fillets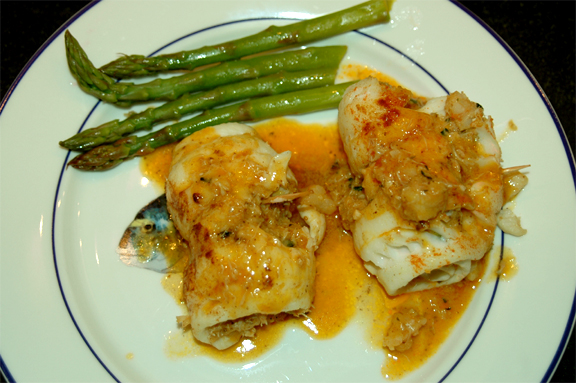 Ingredients
Flounder

2

, wide side pocket only cut open

Lemon juice

1⁄4 Cup (4 tbs)

Cooking oil

1⁄4 Cup (4 tbs)

Chopped onion

1⁄2 Cup (8 tbs)

Chopped celery

1⁄4 Cup (4 tbs)

Oleo

1⁄4 Cup (4 tbs)

Claw crab meat

1 Can (10 oz)

Salt

1 Teaspoon

Black pepper

1 Teaspoon

Red pepper

1⁄2 Teaspoon

Cooked rice

1 Cup (16 tbs)

Breadcrumbs

1⁄2 Cup (8 tbs)

(Progresso)

Water

1⁄4 Cup (4 tbs)

Salt

To Taste

Pepper

To Taste
Nutrition Facts
Serving size
Calories 4465 Calories from Fat 711
% Daily Value*
Total Fat 79 g122.1%
Saturated Fat 16.8 g84.2%
Trans Fat 0.8 g
Cholesterol 2241.3 mg
Sodium 4642 mg193.4%
Total Carbohydrates 20 g6.6%
Dietary Fiber 1.1 g4.6%
Sugars 1.6 g
Protein 864 g1727.2%
Vitamin A 41% Vitamin C 143.9%
Calcium 91% Iron 111.1%
*Based on a 2000 Calorie diet
Directions
Rub flounder with lemon juice and oil, inside and out.
Lightly salt and pepper, inside and out.
Saute onion and celery in oleo.
Add crabmeat, salt, peppers and simmer for 5 minutes.
Add cooked rice and bread crumbs.
If mixture becomes a little dry, add 1/4 cup water.
Place this mixture in flounder.
Place dark side of flounder up on a cookie sheet that has been lined with foil.
If all of the mixture does not fit into the flounder, place in another container and bake along with flounder.
It will take less time for fish to bake.
Cover cookie sheet with foil.
Bake at 350 degrees until flounder flakes easily when pierced with a fork.
Serves 4.