»

Recipes

»

Fish
Stuffed Fish Recipe
Stuffed Fish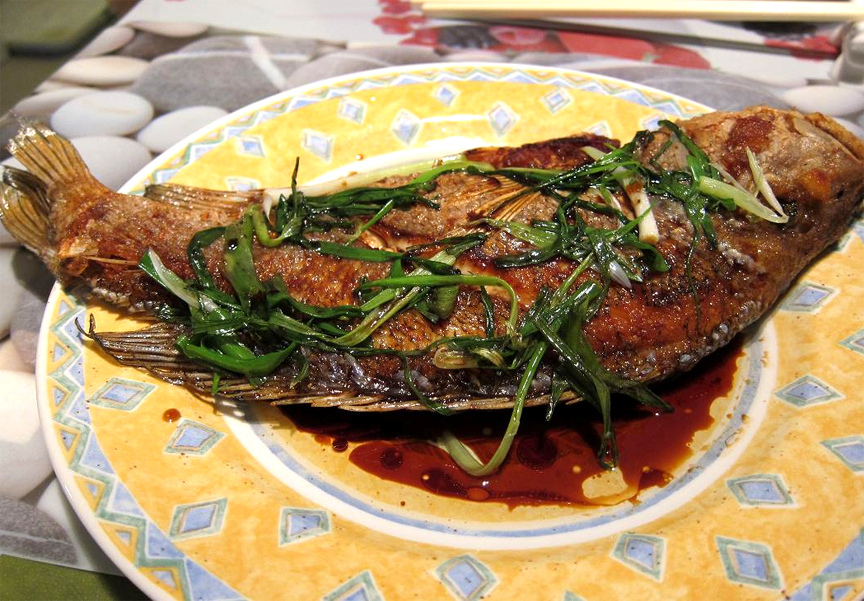 Ingredients
Dressed striped bass/Other fish

4 Pound

(Fresh Or Frozen)

Garlic

2 Clove (10 gm)

Lime juice

3 Tablespoon

Pepper

1⁄4 Teaspoon

Onion

1 Medium

, chopped

Green bell pepper

1 Medium

, chopped

Butter/Margarine

2 Tablespoon

Tomatoes

2 Medium

, peeled, seeded, and chopped

Canned crab meat

7 1⁄2 Ounce

, drained, flaked, and cartilage removed (1 Can)

Dry white wine

1⁄4 Cup (4 tbs)
Nutrition Facts
Serving size: Complete recipe
Calories 2358 Calories from Fat 638
% Daily Value*
Total Fat 71 g109.9%
Saturated Fat 24.9 g124.3%
Trans Fat 0 g
Cholesterol 1703.5 mg
Sodium 2422 mg100.9%
Total Carbohydrates 45 g14.9%
Dietary Fiber 9.4 g37.7%
Sugars 20.3 g
Protein 359 g717.2%
Vitamin A 100.3% Vitamin C 306.2%
Calcium 39.6% Iron 95.7%
*Based on a 2000 Calorie diet
Directions
Thaw frozen fish.
Cut fish in half lengthwise; remove bones.
Cut garlic cloves; rub cut edge of garlic over all surfaces of the fish.
Sprinkle with lime juice, pepper, and 1 teaspoon salt.
Place one half of the fish in a well-greased 15x10x1-inch baking pan, skin side down.
In saucepan cook onion and green pepper in butter till onion is tender.
Add tomatoes and 1/2 teaspoon salt; simmer, uncovered, 5 to 8 minutes or till very thick.
Stir in crab and wine; heat through.
Spoon crab mixture evenly over the halved fish in pan.
Top with second half, skin side up.
Bake, covered, in 350° oven 45 to 50 minutes or till fish flakes easily with a fork.