»

Recipes

»

Eggplant
Stuffed Eggplant Recipe
Stuffed Eggplant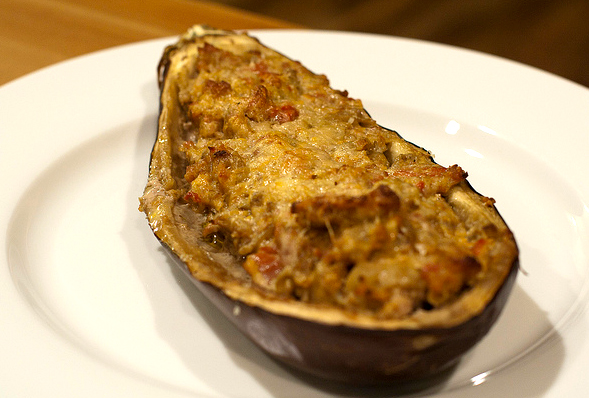 Ingredients
Eggplants

3 Medium

Finely chopped onion

1 Cup (16 tbs)

Finely chopped bell pepper

1 Cup (16 tbs)

Celery stalks

2

, finely chopped

Ground chuck beef

1 Pound

Tomato sauce

24 Ounce

(3 Cans, 8 Ounce Each)

Olive oil

2 Tablespoon

Salt

2 Teaspoon

Black pepper

1⁄2 Teaspoon

Sweet basil

1⁄2 Teaspoon

Dried parsley

2 Tablespoon

Red pepper

1⁄2 Teaspoon

Chopped mushrooms

1⁄2 Cup (8 tbs)

Garlic

2 Clove (10 gm)

, crushed
Nutrition Facts
Serving size
Calories 367 Calories from Fat 190
% Daily Value*
Total Fat 21 g32.8%
Saturated Fat 0.82 g4.1%
Trans Fat 0 g
Cholesterol 50 mg
Sodium 748.3 mg31.2%
Total Carbohydrates 28 g9.4%
Dietary Fiber 10.6 g42.4%
Sugars 13 g
Protein 19 g37.5%
Vitamin A 40.7% Vitamin C 100.5%
Calcium 12.5% Iron 36.7%
*Based on a 2000 Calorie diet
Directions
Cut each eggplant in half lengthwise.
Scoop out pulp leaving a 1/2-inch shell.
Reserve pulp.
Parboil the shells for 5 minutes.
Remove from water and drain.
Saute onions, bell pepper and celery until wilted.
Add meat and continue cooking until the meat is grey in color.
Add remaining ingredients, seasonings and eggplant pulp.
Continue cooking until soft, about 20 minutes.
Arrange the eggplant shells in a shallow baking dish.
Fill each with the meat mixture.
Place the remaining mixture in the pan around filled shells.
Bake at 450 degrees for 15 to 20 minutes.
Serves 6.