»

Recipes

»

Cabbage

»

Stuffed Cabbage Leaves
Stuffed Cabbage Leaves Recipe
Stuffed Cabbage Leaves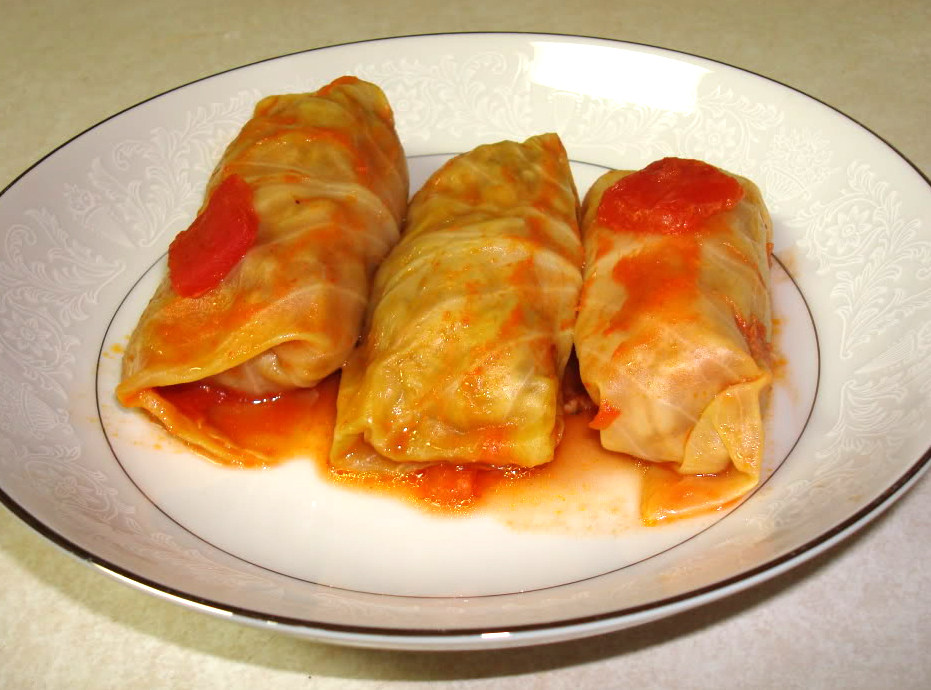 Ingredients
Cabbages

2 Medium

Tomato paste

2 Tablespoon

Cinnamon

1 Inch

Ground meat

1 Pound

Boiling water

1 Cup (16 tbs)

Onions

2

, chopped

Raw rice

1⁄4 Cup (4 tbs)

Butter

3 Tablespoon

Lemon slices

6

Salt

To Taste

Pepper

To Taste
Nutrition Facts
Serving size: Complete recipe
Calories 1570 Calories from Fat 617
% Daily Value*
Total Fat 70 g108.3%
Saturated Fat 35.7 g178.5%
Trans Fat 0 g
Cholesterol 256.8 mg
Sodium 875.7 mg36.5%
Total Carbohydrates 133 g44.3%
Dietary Fiber 34.5 g137.8%
Sugars 47.4 g
Protein 113 g226.4%
Vitamin A 51.8% Vitamin C 708%
Calcium 63.1% Iron 61.6%
*Based on a 2000 Calorie diet
Directions
Parboil cabbage leaves as in recipe above.
Brown ground beef and chopped onions in 2 tablespoons of the butter.
Add salt and pepper, half the tomato paste, and cinnamon.
Add water and rice.
Simmer until rice is partially done.
Stuff cabbage leaves as described in recipe above.
Cover bottom of a greased casserole with cabbage leaves.
Place rolls in layers.
Cover with inverted plate.
Add remaining tomato paste diluted with enough boiling water to cover rim of plate.
Dot with remaining butter.
Cover and simmer for 2 hours or until done.