»

Recipes

»

Homemade Strawberry Popsicles
Homemade Strawberry Popsicles Recipe
These Strawberr-Wee Popsicles are not only super easy to make, they're nutritious and perfect for anyone in the family, no matter your age!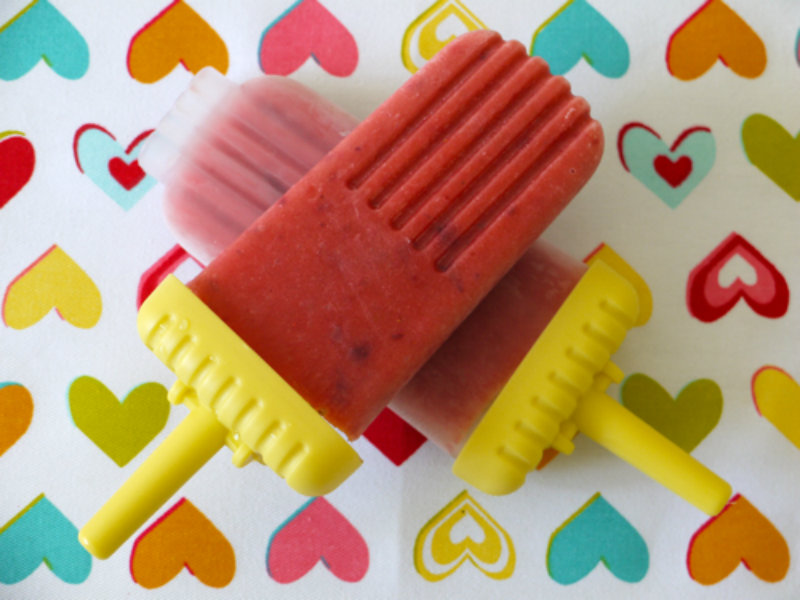 Ingredients
Strawberries

2 1⁄4 Cup (36 tbs)

, stems removed

Lemon juice

1 Tablespoon

Honey/Agave

1 Tablespoon
Nutrition Facts
Serving size
Calories 29 Calories from Fat 2
% Daily Value*
Total Fat 0.2 g0.3%
Saturated Fat 0.01 g0.05%
Trans Fat 0 g
Cholesterol 0 mg
Sodium 0.78 mg0.03%
Total Carbohydrates 7 g2.4%
Dietary Fiber 1.3 g5.3%
Sugars 5.3 g
Protein 0.46 g0.92%
Vitamin A 0.2% Vitamin C 66.4%
Calcium 1.1% Iron 1.6%
*Based on a 2000 Calorie diet
Directions
MAKING
1. In a blender, place the strawberries, lemon juice and honey, blend it smooth.
2. In popsicle moulds, pour the puree and freeze overnight.

SERVING
3. Serve it chilled.
Editors Review
Homemade strawberry popsicles are not only packed with vitamin C but they are naturally delicious, something that wouldn't be found in a store bought popsicle. These are fun to make and healthy for the kids to enjoy as dessert. Just 2 ingredients blended together in a blender and freeze in popsicle moulds. It's that simple.