»

Recipes

»

Strawberry Thick Shakes
Strawberry Thick Shakes Recipe
Strawberry thichshakes…there is no better way that I have had strawberries. A treat that lasts in your memories for a lifetime. Every sip of this superb drink is a heavenly feeling.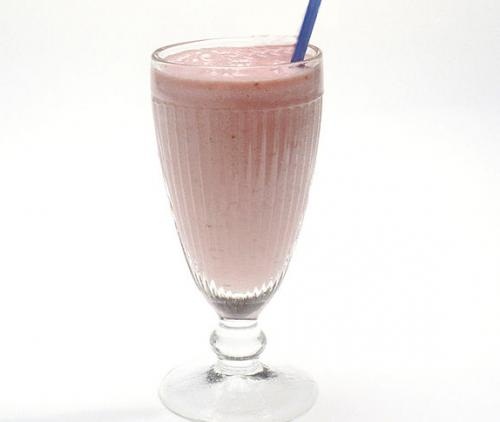 Summary
Preparation Time
1 Hr 20 Min
Difficulty Level
Very Easy
Health Index
Healthy
Servings
4
Ingredients
California strawberry

2 Pint

(fresh)

Vanilla ice cream

1 Quart

, softened
Nutrition Facts
Serving size
Calories 575 Calories from Fat 234
% Daily Value*
Total Fat 26 g40%
Saturated Fat 16.1 g80.3%
Trans Fat 0 g
Cholesterol 104.1 mg
Sodium 189.2 mg7.9%
Total Carbohydrates 78 g26%
Dietary Fiber 6.8 g27.2%
Sugars 50.2 g
Protein 8 g16.6%
Vitamin A 19.9% Vitamin C 2.4%
Calcium 30.3% Iron 1.2%
*Based on a 2000 Calorie diet
Directions
MAKING
1) Reserving few strawberries for garnish, puree the remaining strawberries in blender.
2) Pass the strawberry puree through double thickness of cheesecloth.
3) In a blender, place puree and ice cream together and blend until smooth.
4) Remove and put the blender container in freezer for about 1 hour.
5) Take the blender container out of freezer.
6) Process the strawberry mixture for several seconds until smooth before serving.
7) Divide the strawberry mixture into 4 tall glasses garnish with reserve strawberries.

SERVING
8) Serve immediately with long spoons.