»

Recipes

»

French

»

Souffle
Strawberry Souffle Recipe
Try out this quick and easy recipe for the much popular Strawberry Souffle. Needless to say that this recipe for Strawberry Souffle is amazingly tasty too! Give it a try and surprise your loved ones.
Frozen Strawberry Souffle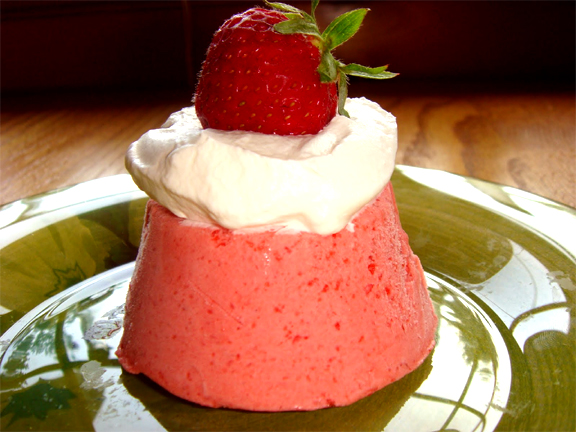 Ingredients
Strawberries

1 Pint

, hulled crushed

Sugar

1 1⁄4 Cup (20 tbs)

Eggs

4

, separated

Unflavored gelatin

1

Salt

1⁄8 Teaspoon

Heavy cream

1 Cup (16 tbs)

, whipped
Nutrition Facts
Serving size
Calories 378 Calories from Fat 162
% Daily Value*
Total Fat 18 g28.2%
Saturated Fat 10.3 g51.3%
Trans Fat 0 g
Cholesterol 195.8 mg
Sodium 106.3 mg4.4%
Total Carbohydrates 49 g16.4%
Dietary Fiber 1.6 g6.4%
Sugars 45.8 g
Protein 7 g14%
Vitamin A 15.2% Vitamin C 78.8%
Calcium 5.8% Iron 5.4%
*Based on a 2000 Calorie diet
Directions
MAKING
1)Take a waxed paper and cut a strip of about 4-inches deep and long enough to extend around sides of 1 1/2 quart souffle dish and fasten with string.
2)Lightly brush inside surface of collar with oil.
3)Take a sieve and force crushed strawberries to make about 13/4 cups puree).
4)Add 1/2 cup of the sugar and mix.
5)Remove 1/4 cup sweetened puree and sprinkle gelatin over top to soften.
6)On top of double boiler, mix egg yolks with1/2 cup of the sugar.
7)Cook on boiling water until thickened.
8)Add the gelatin mixture and stir until dissolved.
9)Cool and blend in remaining strawberry puree.
10)In a bowl, beat egg whites and salt until soft peaks form.
11)Slowly add remaining 1/4 cup sugar and continue beating until stiff peaks form.
12)Add whipped cream and then strawberry mixture.
13)Put the mixture into prepared souffle dish and chill until firm.

SERVING
14)Remove collar and serve with Brandied Strawberry Sauce.