»

Recipes

»

Cake

»

Quick Baked Strawberry Shortcake
Quick Baked Strawberry Shortcake Recipe
Enjoy a strawberry feast on a summer afternoon.You can make a variety of strawberry desserts & drinks,I am sharing one of my strawberry cake recipe with you.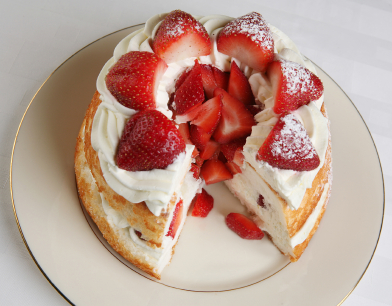 Summary
Preparation Time
5 Min
Cooking Time
20 Min
Ready In
25 Min
Difficulty Level
Easy
Ingredients
Cake flour

2 1⁄4 Cup (36 tbs)

Baking powder

4 Teaspoon

Salt

1⁄2 Teaspoon

Shortening

1⁄3 Cup (5.33 tbs)

Egg

1

, slightly beaten

Milk

2⁄3 Cup (10.67 tbs)

Fresh strawberries

1⁄3 Cup (5.33 tbs)

Heavy cream

1⁄2 Cup (8 tbs)

Sugar

1 Cup (16 tbs)

Vanilla

1 Teaspoon
Nutrition Facts
Serving size: Complete recipe
Calories 3274 Calories from Fat 1143
% Daily Value*
Total Fat 129 g197.8%
Saturated Fat 49.1 g245.4%
Trans Fat 9 g
Cholesterol 391 mg
Sodium 2727.1 mg113.6%
Total Carbohydrates 489 g162.9%
Dietary Fiber 36 g144.2%
Sugars 211.8 g
Protein 60 g120.9%
Vitamin A 43.4% Vitamin C 58.5%
Calcium 199.3% Iron 19.8%
*Based on a 2000 Calorie diet
Directions
Mix in baking powder,flour,salt & sugar together.Add shortening to it,using a pastry blender till it becomes soft.Beat in the egg & milk,spread the batter over a greased round cake pan,bake for 425 degrees for 15 minutes.
Wash & slice the strawberries,add sugar to them.Whip cream in a bowl,add vanilla to the cream.Cut the shortcake & place on the serving palate,spread half the strawberry mix,place the other half of the cake on that & finally add the remaining cream & berry on top.