»

Recipes

»

Cake

»

Strawberry Shortcake With Marshmallows
Strawberry Shortcake With Marshmallows Recipe
Easy & non complicated Strawberry shortcake recipe.I love baking strawberry desserts & this strawberry shortcake tops the list.It is easy & tastes wonderful,you can not resist making one of your own Strawberry shortcake with lots of wiped cream.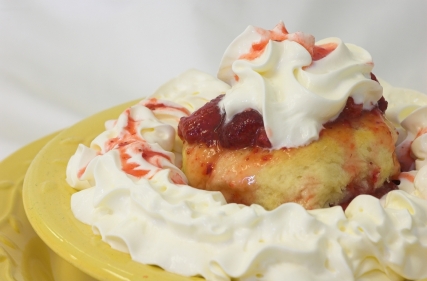 Summary
Preparation Time
5 Min
Cooking Time
45 Min
Ready In
50 Min
Difficulty Level
Easy
Ingredients
Marshmallows

250 Gram

(small sized)

White cake mix

18 Ounce

Strawberry jello

8 Gram

(1 packet)

Frozen strawberries/Fresh strawberries

18 Ounce

Cool whip

12 Ounce
Nutrition Facts
Serving size: Complete recipe
Calories 3834 Calories from Fat 749
% Daily Value*
Total Fat 75 g115.5%
Saturated Fat 68.3 g341.3%
Trans Fat 0 g
Cholesterol 0 mg
Sodium 3765.8 mg156.9%
Total Carbohydrates 746 g248.7%
Dietary Fiber 11 g43.9%
Sugars 460.7 g
Protein 31 g61.4%
Vitamin A 4.6% Vitamin C 382.6%
Calcium 56.3% Iron 24.5%
*Based on a 2000 Calorie diet
Directions
Spread the marshmallows in the pan.Make the cake batter as per the directions on the box.Thaw the strawberries for a couple of mintues Microwave strawberries to thaw for 1 min.Add strawberries & Jello together.Spread a thick layer of cake batter over the marshmallows that you have just spread over on the pan. Put Jello and Strawberry mixture over the batter. Bake according to directions on box.Once the cake is done,chill it.Serve chilled with lots of wiped cream on top of the shortcake.