»

Recipes

»

Strawberry Savarin
Strawberry Savarin Recipe
I have been careful enough to save this recipe of Strawberry Savarin from my mum's scarpbook. This Strawberry Savarin is so delicious that one wouldn't feel down with the time involved in preparing this.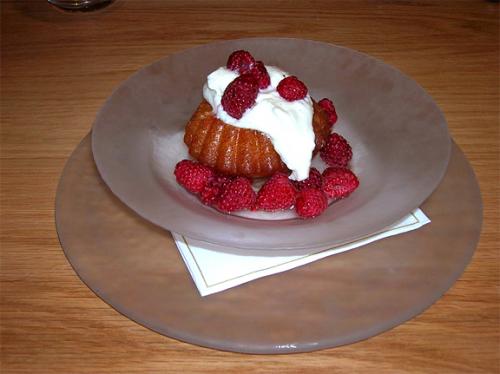 Ingredients
Milk

1/2 Cup (16 tbs)

, scalded

Yeast, active dry or compressed-1 package or cake

All-purpose flour-2 cups, sifted

Salt

1/2 Teaspoon

Eggs

4 Small

Sugar

2 Tablespoon

Butter

2/3 Cup (16 tbs)

, softened

Rum

1/2 Cup (16 tbs)

Apricot jam

1 Cup (16 tbs)

Sugar

1/2 Cup (16 tbs)

Water

1/4 Cup (16 tbs)

Heavy cream

1 1/2 Cup (16 tbs)

Strawberries

1 Pint

, cleaned
Directions
MAKING
1)Take a bowl, and pour milk, cool until it is lukewarm.
2)Add yeast and stir until dissolved.
3)In a large bowl, sift together flour and salt.
4)In a small bowl, beat eggs lightly and add into yeast mixture.
5)Add all the flour at once and beat until bubbles begin to form.
6)Cover and leave to rise for 1 ½ hours.
7)Punch down, dough with a wooden spoon.
8)Then, sprinkle sugar over dough and dot with butter.
9)Beat vigorously for about 4 minutes or until large bubbles form.
10)Take a buttered 10-inch ring mold and put the dough into it.
11)Leave it rise until the dough rises to the top of the mold for about 1 hour.
12)Bake at 400 degrees for about 35 minutes or until top is quite brown.
13)Loosen edges carefully and turn out on a large platter.
14)Pour rum over the cake and leave it to cool.
15)Take a small saucepan, and add jam, sugar and water.
16)Heat for about 10 minutes, or until mixture becomes thin and runny.
17)Remove from heat and force through a fine sieve.
18)Brush mixture evenly over cooled ring. Chill.

FINALIZING
19)In a bowl, whip cream until stiff just before serving.
20)Sweeten and flavor to taste.

SERVING
21)Fill ring with cream and top with berries. Serve.