»

Recipes

»

Smoothie

»

Strawberry And Watermelon Smoothie
Strawberry and Watermelon Smoothie Recipe
Treat your friends to this delicious summer cooler, the Strawberry and Watermelon Smoothie. You would have no trouble at all in preparing it. Friends would be impressed at your culinary skill. So do not procrastinate, try this strawberry and watermelon smoothie recipe.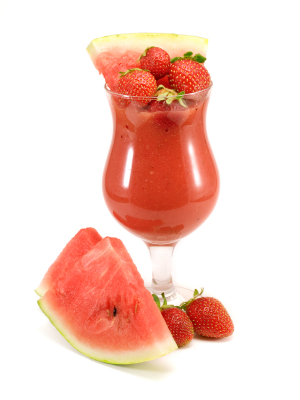 Ingredients
Cubed seeded watermelon

4 Cup (64 tbs)

Lemon fat free yogurt

8 Ounce

Strawberries

1 Pint

, cleaned and hulled

Honey

1 Tablespoon

Ice cubes

5
Nutrition Facts
Serving size
Calories 152 Calories from Fat 6
% Daily Value*
Total Fat 0.72 g1.1%
Saturated Fat 0.06 g0.28%
Trans Fat 0 g
Cholesterol 1.7 mg
Sodium 35.4 mg1.5%
Total Carbohydrates 36 g12%
Dietary Fiber 3.4 g13.5%
Sugars 27.5 g
Protein 4 g7.9%
Vitamin A 27.6% Vitamin C 150%
Calcium 10.3% Iron 6%
*Based on a 2000 Calorie diet
Directions
Stage 1-In a blender or food processor, combine yogurt, watermelon, strawberries, honey and ice cubes.

Stage 2- Process until smooth and frothy.