»

Recipes

»

Tart

»

Strawberry Tarts
Strawberry Tarts Recipe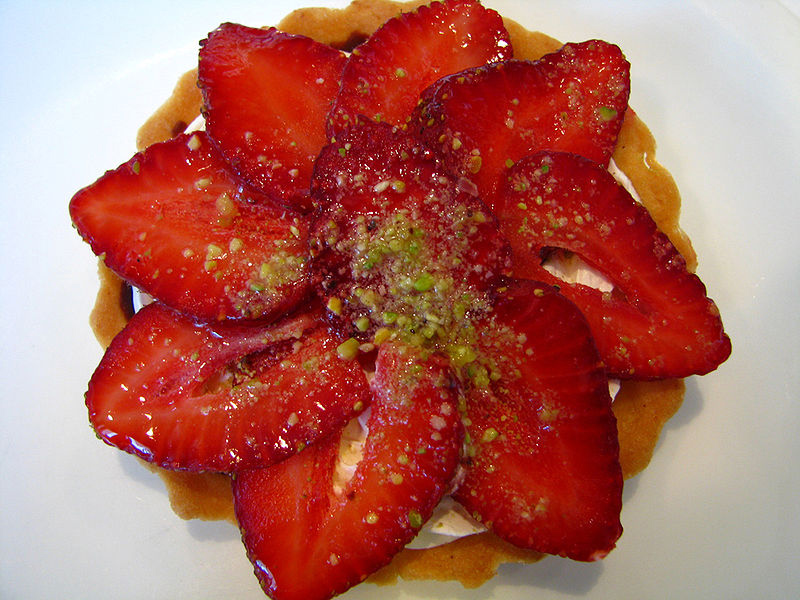 Summary
Preparation Time
10 Min
Cooking Time
10 Min
Ready In
20 Min
Health Index
Healthy++
Ingredients
Sugar

1⁄4 Cup (4 tbs)

All purpose flour

1 Tablespoon

Salt

1 Dash

Milk

1⁄2 Cup (8 tbs)

Egg

1

, well beaten

Vanilla extract

1⁄4 Teaspoon

Whipping cream

1⁄3 Cup (5.33 tbs)

, whipped

3 inch baked tart shells

8

Fresh strawberries

1 Pint

, washed

Currant jelly

1⁄4 Cup (4 tbs)

(Adjust Quantity As Needed)
Nutrition Facts
Serving size
Calories 271 Calories from Fat 106
% Daily Value*
Total Fat 12 g18.1%
Saturated Fat 6.3 g31.4%
Trans Fat 0 g
Cholesterol 65.7 mg
Sodium 111 mg4.6%
Total Carbohydrates 38 g12.8%
Dietary Fiber 2.5 g9.8%
Sugars 23.4 g
Protein 4 g8.5%
Vitamin A 1% Vitamin C 58.8%
Calcium 3.5% Iron 2.5%
*Based on a 2000 Calorie diet
Directions
MAKING
1) In a mixing bowl combine sugar, flour, and salt in top of a double boiler. Mix milk.
2) Stir and cook mixture over boiling water until thickened.
3) Mix little hot mixture into egg.
4) Stir egg mixture into remaining hot mixture.
5) Add egg mixture to the hot mixture and stir well.
6) Turn off heat and add vanilla.
7) Let cool.
8) Mix custard into whipped cream.
9) Spoon tart shells half with the filling.
10) Place 4 to 5 strawberries over filling.
11) On each tart spread 1 teaspoon jelly g in between strawberries.
12) Chill before serving.

SERVING
13) Serve chilled.
Image Courtesy :
http://commons.wikimedia.org/wiki/File:Strawberry_tart_by_Kirti_Poddar.jpg