»

Recipes

»

Pizza
Strawberry Pizza Recipe
Strawberry and cheesecake lovers will delight in this fruity treat.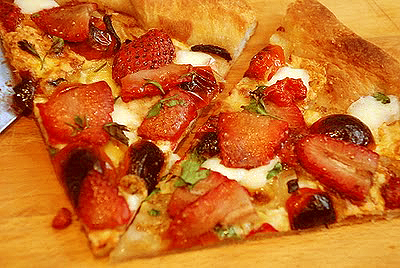 Summary
Preparation Time
20 Min
Cooking Time
1 Hr 0 Min
Ready In
1 Hr 20 Min
Difficulty Level
Easy
Health Index
Healthy
Servings
10
Ingredients
Butter/Margarine

6 Tablespoon

, softened

Egg

1

Vanilla extract

1⁄2 Teaspoon

Almond extract

1⁄4 Teaspoon

All purpose flour

1 1⁄4 Cup (20 tbs)

Baking powder

1⁄2 Teaspoon

Salt

1⁄2 Teaspoon

Cream cheese

8 Ounce

, softened

Confectioner' s sugar

1⁄2 Cup (8 tbs)

Sliced strawberries

2 Cup (32 tbs)

(fresh)

Sugar

1 Cup (16 tbs)

Cornstarch

1⁄4 Cup (4 tbs)

Crushed strawberries

2 Cup (32 tbs)

(fresh)
Nutrition Facts
Serving size
Calories 372 Calories from Fat 140
% Daily Value*
Total Fat 16 g24.5%
Saturated Fat 9.2 g45.9%
Trans Fat 0 g
Cholesterol 65.4 mg
Sodium 198.9 mg8.3%
Total Carbohydrates 54 g18.1%
Dietary Fiber 2 g8.1%
Sugars 36.1 g
Protein 4 g8.4%
Vitamin A 10.8% Vitamin C 47%
Calcium 5.6% Iron 6.4%
*Based on a 2000 Calorie diet
Directions
1. In a mixing bowl, cream butter and sugar for 2 minutes. Beat in egg and extracts. Combine flour, baking powder and salt; gradually add to creamed mixture and mix well. Cover and refrigerate for 1 hour.

2. On a floured surface, roll dough into a 13-in. circle. Transfer to an ungreased 12-in. pizza pan. Build up edges slightly. Bake at 350 degrees F for 18-22 minutes or until lightly browned. Cool completely.

3. In a mixing bowl, beat cream cheese and confectioners' sugar until smooth. Spread over crust. Arrange sliced strawberries on top.

4. In a saucepan, combine sugar, cornstarch and crushed berries until blended. Bring to a boil; cook and stir for 2 minutes or until thickened. Cool slightly. Spoon over strawberries. Refrigerate until serving.