»

Recipes

»

Pie
Strawberry Pie Recipe
Strawberry Pie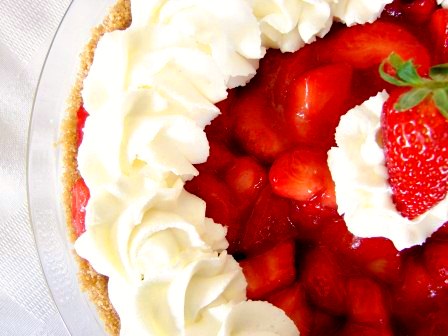 Ingredients
| | | |
| --- | --- | --- |
| | 9 inch pie shell | 1 |
| | Fresh strawberries | 1 1⁄4 Quart |
| | White sugar | 3⁄4 Cup (12 tbs) |
| | Cornstarch | 2 Tablespoon |
| | Salt | 1 Pinch |
| | Water | 1⁄2 Cup (8 tbs) |
| | Cold water | 2 Tablespoon |
Nutrition Facts
Serving size: Complete recipe
Calories 2095 Calories from Fat 551
% Daily Value*
Total Fat 62 g94.6%
Saturated Fat 22.6 g112.9%
Trans Fat 0 g
Cholesterol 0 mg
Sodium 1225.1 mg51%
Total Carbohydrates 386 g128.8%
Dietary Fiber 26.7 g107%
Sugars 207.7 g
Protein 15 g29.8%
Vitamin A 2.8% Vitamin C 1159%
Calcium 21.7% Iron 40.7%
*Based on a 2000 Calorie diet
Directions
MAKING
1) In a large bowl, add 1 cup of fresh strawberries and crush to form a smooth pulp.
2) In a saucepan, add water and sugar and heat till all the sugar has dissolved.
3) Add the sugar syrup to the strawberry pulp along with a pinch of salt. Pour the mixture into a saucepan and let it come to a boil.
4) In a small bowl, dissolve the cornstarch in cold water to form a fine paste.
5) Add the cornstarch paste slowly into the strawberry-sugar syrup stirring constantly. Reduce the flame and cook for about 10 minutes until it becomes thick and clear.
6) Allow the mixture to cool down a little.

SERVING
7) Arrange a quart of whole berries on the prepared pie shell. Pour the cooled strawberry filling into the shell over the strawberries.
8) Garnish with whipping cream or ice cream.