»

Recipes

»

Pie
Strawberry Pie Recipe
Strawberry Pie is a simple and delicious dessert recipe which cannot just escape your guest's attention in any party. Why don€™t you give it a try and let me know the experience.
Strawberry Pie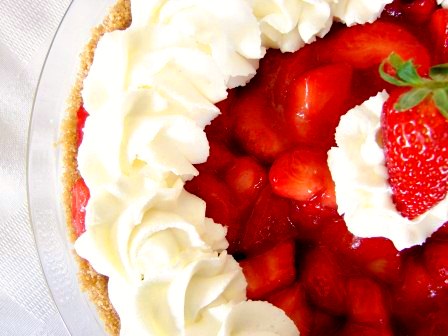 Ingredients
Strawberry

3 Ounce

(1 Box)

Boiling water

2⁄3 Cup (10.67 tbs)

Ice cubes

2 Cup (32 tbs)

Cool whip

8 Ounce

(1 Carton)

Sliced strawberries

1 Cup (16 tbs)
Nutrition Facts
Serving size: Complete recipe
Calories 702 Calories from Fat 381
% Daily Value*
Total Fat 38 g58.8%
Saturated Fat 37.5 g187.6%
Trans Fat 0 g
Cholesterol 0 mg
Sodium 10.4 mg0.4%
Total Carbohydrates 68 g22.8%
Dietary Fiber 4.8 g19.2%
Sugars 61.4 g
Protein 2 g3.2%
Vitamin A 0.2% Vitamin C 83.4%
Calcium 1.8% Iron 1.9%
*Based on a 2000 Calorie diet
Directions
Dissolve Jello in boiling water.
Stir Jello about 3 minutes; add 2 cups ice cubes.
Stir until ice melts and Jello thickens.
Blend Cool Whip into Jello until smooth.
Fold in strawberries.
Chill until mixture will mound.
Spoon into graham cracker crust.
Refrigerate at least 2 hours before serving.