»

Recipes

»

Mousse
Strawberry Mousse Recipe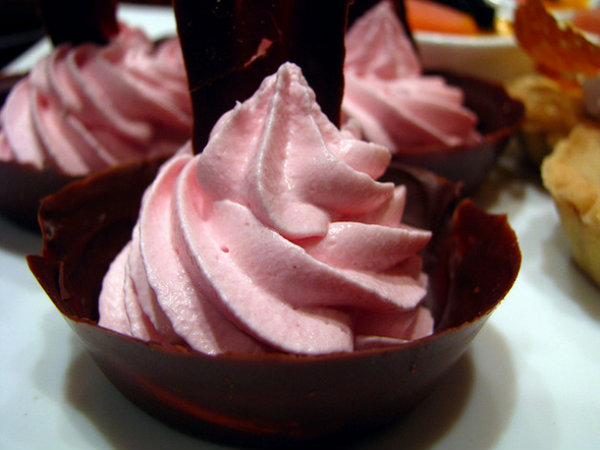 Summary
Preparation Time
15 Min
Cooking Time
20 Min
Ready In
35 Min
Difficulty Level
Easy
Health Index
Average
Servings
4
Ingredients
Unflavored gelatin

1

Water

1⁄4 Cup (4 tbs)

Lemon juice

2 Tablespoon

Strawberries

2 1⁄2 Cup (40 tbs)

, pureed

Eggs

2 Small

, separated

Sugar

1⁄2 Cup (8 tbs)

, granulated

Whipping cream

1⁄2 Cup (8 tbs)

Strawberries

1 Tablespoon
Nutrition Facts
Serving size
Calories 278 Calories from Fat 109
% Daily Value*
Total Fat 12 g18.7%
Saturated Fat 7.2 g36.2%
Trans Fat 0 g
Cholesterol 121.8 mg
Sodium 41 mg1.7%
Total Carbohydrates 36 g12.1%
Dietary Fiber 2.3 g9.2%
Sugars 32.5 g
Protein 5 g10.6%
Vitamin A 2.2% Vitamin C 116.9%
Calcium 4.7% Iron 4.7%
*Based on a 2000 Calorie diet
Directions
MAKING
1. In bowl, combine gelatin, water and lemon juice and let stand for 2 minutes or until gelatin has softened.
2. Then microwave at Medium (50%) for 1 minute.
3. Stir in pureed strawberries, microwave at Medium (50%) for 2 minutes and stir well.
4. In bowl, beat egg yolks with 1/4 cup (50 milliliters) of the sugar and mix in strawberry-gelatin mixture.
5. Refrigerate for about 30 minutes or until mixture begins to set.
6. In a bowl or a container beat egg whites until soft peaks form and gradually add remaining sugar, beating until stiff peaks form.
7. Whip cream, gently fold egg whites, whipped cream into strawberry mixture and blend well.
8. Pour into 6-cup of about 1.5 liter serving dish, cover and refrigerate until set, about 2 hours.

SERVING
9. Garnish with strawberries and serve.
Image Courtesy :
http://www.flickr.com/photos/feastguru_kirti/2221937957/