»

Recipes

»

Shrimp

»

Stir-Fried Shrimp
Stir-Fried Shrimp Recipe
My younger sister Galy loves this stir fried shrimp recipe. She is crazy about cooking. When she comes home during holidays,she generally cook this appetizer. It is very delicious and my whole family enjoys it. You must try this stir fried shrimp recipe.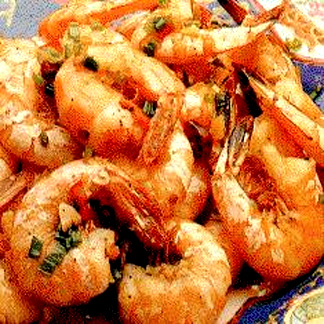 Ingredients
Lime juice

2 Tablespoon

Cornstarch

2 Teaspoon

Ground cumin

1⁄2 Teaspoon

Salt

1⁄4 Teaspoon

Pepper

1⁄4 Teaspoon

Uncooked deveined peeled large shrimp

1 Pound

(about 24)

Yellow bell pepper

1 1⁄2 Cup (24 tbs)

, chopped (1 large sized)

Red bell pepper

1 1⁄2 Cup (24 tbs)

, chopped (1 large sized)

Onion

1⁄2 Cup (8 tbs)

, chopped (1 medium sized)

Chicken broth

1⁄3 Cup (5.33 tbs)

Garlic

2 Clove (10 gm)

, finely chopped

Ground red pepper

1⁄8 Teaspoon

(cayenne)

Chopped cilantro

2 Tablespoon

(fresh)
Nutrition Facts
Serving size
Calories 181 Calories from Fat 22
% Daily Value*
Total Fat 2 g3.7%
Saturated Fat 0.42 g2.1%
Trans Fat 0 g
Cholesterol 172.4 mg
Sodium 352.6 mg14.7%
Total Carbohydrates 14 g4.8%
Dietary Fiber 2.4 g9.6%
Sugars 3.5 g
Protein 25 g49.7%
Vitamin A 52.4% Vitamin C 304.6%
Calcium 8.8% Iron 20.3%
*Based on a 2000 Calorie diet
Directions
1. In medium glass or plastic bowl, mix lime juice, cornstarch, cumin, salt and black pepper. Stir in shrimp. Cover and refrigerate 1 hour.
2. Heat 12-inch nonstick skillet over medium heat. Add yellow and red bell peppers, onion, broth, garlic, red pepper and cilantro; cook and stir 2 minutes. Add shrimp mixture; cook and stir 3 to 4 minutes or until shrimp are pink and firm.