»

Recipes

»

Cake

»

Sticky Toffee Pudding Cake
Sticky Toffee Pudding Cake Recipe
Sticky toffee pudding is a favorite British dessert consisting of moist cake flooded with a decadent toffee sauce ("pudding" is synonymous with "dessert" in England). My husband thinks it is one of the best desserts ever, and I wholeheartedly agree. The name alone makes me weak in the knees. I've simplified this classic British dessert while simultaneously making it more delicious than ever (if I do say so myself).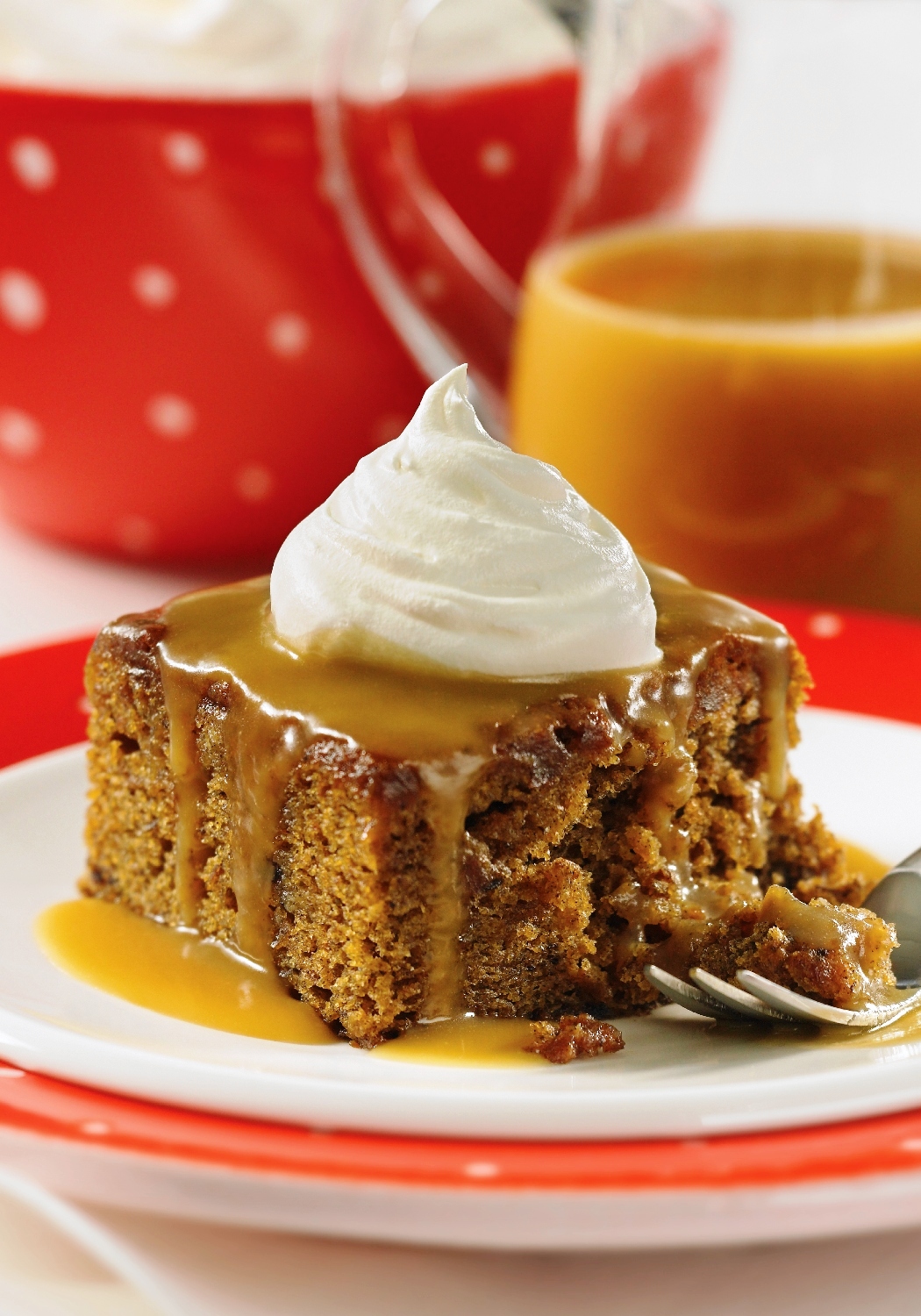 Ingredients
8 oz pitted dates, chopped 250 g

Baking soda

1 Teaspoon

Boiling water

1 Cup (16 tbs)

3?4 cup packed light brown sugar 175 mL

2 large eggs, at room temperature 2

6 tbsp unsalted butter, softened 90 mL

Vanilla extract

1 Teaspoon

All purpose flour

11

Baking powder

1 Teaspoon

1?2 tsp salt 2 mL

Toffee Sauce (page 278)
Directions
Eight ounces (250 g) pitted whole dates yields approximately 2 cups (500 mL) chopped dates.
8-inch (20 cm) square metal baking pan, sprayed with nonstick baking spray with flour
1. In a large bowl, combine dates, baking soda and boiling water. Let stand for about 30 minutes or until cooled to room temperature.
2. Meanwhile, preheat oven to 350°F (180°C).
3. Add brown sugar, eggs, butter and vanilla to date mixture. Using an electric mixer on medium-high speed, beat for 2 minutes, until blended (mixture will appear slightly curdled). Add flour, baking powder and salt. Beat on low speed for 1 minute. Scrape sides and bottom of bowl with a spatula. Beat for 15 to 30 seconds, until blended.
4. Spread batter evenly in prepared pan.
5. Bake for 40 to 45 minutes or until a toothpick inserted in the center comes out with a few moist crumbs attached. Prepare Toffee Sauce while cake bakes.
6. Set pan on a wire rack. Poke holes all over top of cake with a toothpick. Pour 1⁄2 cup (125 mL) of the sauce over cake. Let cool in pan on rack for 10 minutes. Cut cake into squares and serve warm with the remaining sauce.
Storage
Store the cooled cake in the refrigerator in a cake keeper, or loosely wrapped in foil or plastic wrap, for up to 5 days. Warm cake, wrapped loosely in foil, in a 350°F (180°C) oven before serving.
Excerpted from
Piece of Cake!
By Camilla V. Saulsbury © 2011 Robert Rose Inc.
www.robertrose.ca
Reprinted with permission. All rights reserved.