»

Recipes

»

Salmon

»

Steamed Salmon
Steamed Salmon Recipe
Steamed Salmon is a simple fish preparation that can be made quiet easily. I served it for a couple of friend who had come over and they raided the kitchen for more! Try this delicious Steamed Salmon recipe for yourself.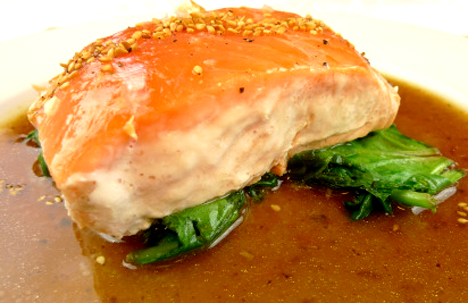 Ingredients
Salmon steaks

2

(1 1/4 Inches Thick)

Lemon

1

, squeezed

Salt

1 Pinch

Butter

1 Tablespoon

Pepper

To Taste
Nutrition Facts
Serving size: Complete recipe
Calories 468 Calories from Fat 202
% Daily Value*
Total Fat 23 g35%
Saturated Fat 9.4 g47%
Trans Fat 0 g
Cholesterol 188.2 mg
Sodium 469 mg19.5%
Total Carbohydrates 6 g2.1%
Dietary Fiber 2.8 g11%
Sugars 0 g
Protein 61 g121.3%
Vitamin A 14.9% Vitamin C 74.4%
Calcium 7.8% Iron 15.1%
*Based on a 2000 Calorie diet
Directions
Butter an ovenproof plate generously, Lay the steaks on the buttered plate, add a squeeze of lemon.
Cover with a lid and put the plate resting over a saucepan of boiling water.
Turn the steaks after 4 minutes and allow another 4 minutes for the other side. (Time depends on the thickness of steaks, but they should not be too thick or they will be difficult to cook through.)
Add salt and pepper and serve with their own cooking juice.
This is really superb.