»

Recipes

»

Cocoa

»

Steamed Cocoa Pudding
Steamed Cocoa Pudding Recipe
Steamed Cocoa Pudding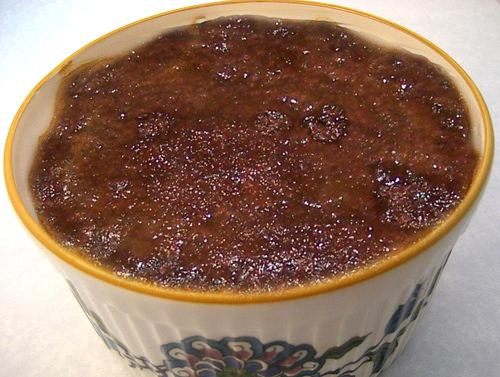 Ingredients
All purpose flour

3⁄4 Cup (12 tbs)

Unsweetened cocoa

1⁄4 Cup (4 tbs)

Baking powder

2 Teaspoon

Eggs

2

, separated

Sugar

1 Cup (16 tbs)

Butter/Margarine

1⁄4 Cup (4 tbs)

(At Room Temperature)

Irish cream liqueur/1/2 cup whipping cream mixed with 1 teaspoon brandy flavoring

1⁄2 Cup (8 tbs)

Coffee flavored yogurt

1⁄2 Cup (8 tbs)
Nutrition Facts
Serving size
Calories 618 Calories from Fat 189
% Daily Value*
Total Fat 23 g34.8%
Saturated Fat 8.7 g43.3%
Trans Fat 0 g
Cholesterol 139.9 mg46.6%
Sodium 248.1 mg10.3%
Total Carbohydrates 87 g28.9%
Dietary Fiber 6.6 g26.4%
Sugars 57.6 g
Protein 10 g19.4%
Vitamin A 10.1% Vitamin C 0.25%
Calcium 24.1% Iron 10.3%
*Based on a 2000 Calorie diet
Directions
In a small bowl, stir together flour, cocoa, and baking powder; set aside.
In a large bowl, beat egg whites with an electric mixer until foamy.
Gradually add 1/4 cup of the sugar, beating until mixture holds soft peaks; set aside.
In another large bowl, combine butter and remaining 3/4 cup sugar; beat until well combined.
Beat in egg yolks, one at a time.
Gradually blend in half the flour mixture.
Add liqueur; beat just until blended.
Blend in remaining flour mixture.
Add yogurt; beat just to blend.
Lightly fold in egg whites.
Transfer mixture to a greased 1 1/2- to 2-quart souffle dish; cover tightly with foil.
Place a rack in a 4-quart or larger electric slow cooker; pour in hot water to a depth of 1 inch (don't worry if water comes above rack).
Place souffle dish on rack.
Cover and cook at high setting until pudding feels firm when lightly touched and a wooden pick inserted in center comes out clean (1 1/2 to 2 hours).
Serve pudding warm, with whipped cream, if desired.