»

Recipes

»

Steamed Artichokes
Steamed Artichokes Recipe
Steamed Artichokes is an easy to prepare side dish recipe which cannot just escape your guest's attention. Try this amazingly delicious Steamed Artichokes, you will surely love to talk about with us.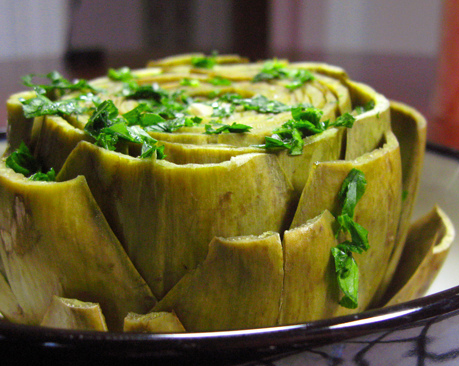 Ingredients
Artichokes

8 Large

Boiling salted water

Coriander seeds

8

Juice of 2 lemons
Directions
1. Trim the tough outer leaves and stalks from the artichokes and drop the vegetables into boiling salted water to cover. Add the coriander seeds and lemon juice.
2. Simmer, covered, until the outer leaves pull off easily, about forty minutes.
Image Courtesy :
http://www.flickr.com/photos/summertomato/5665998450/