»

Recipes

»

Sauce

»

Steak With Green Peppercorn Sauce
Steak with Green Peppercorn Sauce Recipe
This Steak with Green Peppercorn Sauce is an irresistible mouth-watering recipe. Enjoy this Steak with Green Peppercorn Sauce dish with your loved ones in the coming weekend party!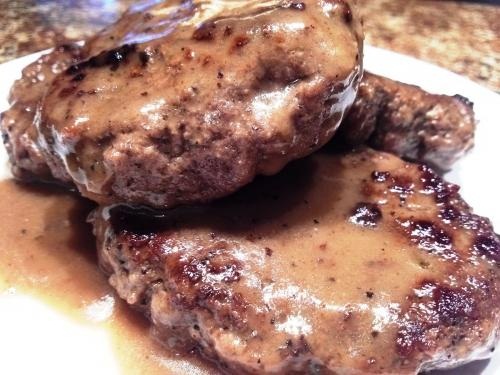 Ingredients
Top round/Sirloin

1 1⁄2 Pound

Butter

1 Teaspoon

Brandy

2 Tablespoon

Shallot

1

, minced

Green peppercorns

2 Teaspoon

(Rinsed)

Beef stock/Chicken stock

1⁄4 Cup (4 tbs)

Heavy cream

2 Tablespoon

Dijon style mustard

1 Tablespoon

Crumbled dried tarragon

1⁄2 Teaspoon

Salt

To Taste

Pepper

To Taste
Nutrition Facts
Serving size
Calories 237 Calories from Fat 113
% Daily Value*
Total Fat 13 g19.7%
Saturated Fat 5.1 g25.5%
Trans Fat 0 g
Cholesterol 73.6 mg
Sodium 223.2 mg9.3%
Total Carbohydrates 1 g0.5%
Dietary Fiber 0.1 g0.41%
Sugars 0.1 g
Protein 24 g47%
Vitamin A 3.2% Vitamin C 0.95%
Calcium 1.3% Iron 3.1%
*Based on a 2000 Calorie diet
Directions
Using a large frying pan, saute meat in butter until browned, turning to cook both sides and cooking until medium rare.
Ignite brandy and pour flaming over the meat.
Remove to a carving board.
Add shallot peppercorns, stock, wine, cream, mustard, and tarragon and cook down juices until slightly reduced.
Slice steak into strips and place on a hot platter; spoon sauce over it.
Contains about 290 calories per serving.