»

Recipes

»

European

»

Russian

»

Tartar

»

Steak Strips Tartar
Steak Strips Tartar Recipe
This Steak Strips Tartar is a side dish. Enjoy this amazingly delicious Steak Strips Tartar recipe and share your feelings with us!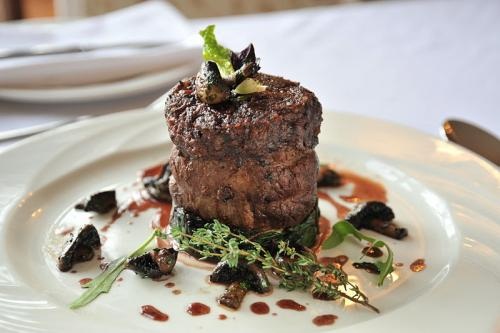 Ingredients
Top round steak

1 1⁄2 Pound

, sliced into strips

Parsley

1⁄3 Cup (5.33 tbs)

Watercress sprig

1 Bunch (100 gm)
Nutrition Facts
Serving size
Calories 97 Calories from Fat 45
% Daily Value*
Total Fat 5 g7.7%
Saturated Fat 1.8 g8.8%
Trans Fat 0 g
Cholesterol 32.5 mg
Sodium 31.9 mg1.3%
Total Carbohydrates 0.21 g0.07%
Dietary Fiber 0.1 g0.39%
Sugars 0 g
Protein 12 g23.5%
Vitamin A 8.1% Vitamin C 9.7%
Calcium 1.2% Iron 0.67%
*Based on a 2000 Calorie diet
Directions
Alternate layers of meat strips and parsley in a shallow baking dish or bowl.
Pour over the hot Wine and Mushroom Marinade .
Cover and chill 2 days.
To serve, arrange meat slices on a platter and spoon some of the marinade over it.
Garnish with watercress.