»

Recipes

»

Steak

»

Steak Dianne
Steak Dianne Recipe
A complete meal in itself this steak Dianne is one that you can make for dinner tonight. With easily available ingredients,this recipe sure is a fairy tale dish come true.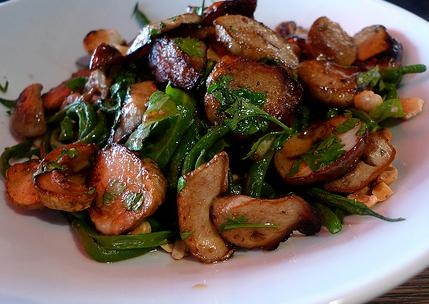 Ingredients
Sirloin steak

2 Pound

(Boned)

Pepper

To Taste

, freshly ground

Dry mustard

To Taste

Butter

1 Tablespoon

Mushrooms

4 Medium

, sliced

Green onions

1 Bunch (100 gm)

, chopped

Worcestershire sauce

To Taste

Lemon juice

1 Tablespoon

, freshly squeezed
Nutrition Facts
Serving size
Calories 495 Calories from Fat 288
% Daily Value*
Total Fat 32 g49.2%
Saturated Fat 13.6 g67.8%
Trans Fat 0 g
Cholesterol 114.6 mg
Sodium 124.9 mg5.2%
Total Carbohydrates 2 g0.8%
Dietary Fiber 1.1 g4.3%
Sugars 0.9 g
Protein 47 g94.2%
Vitamin A 21.9% Vitamin C 22.6%
Calcium 7.2% Iron 21.9%
*Based on a 2000 Calorie diet
Directions
GETTING READY
1) Cut the steak in about ½ inch slices.
2) Using a mallet flatten the steak on both sides.
3) Rub pepper and mustard over both sides of steak.

MAKING
4) In a non-stick pan, melt butter and saute the steak on both sides.
5) Using a perforated ladle remove the steak to heated platter; keep warm.
6) In the same pan, stir in mushrooms, onions, Worcestershire sauce and lemon juice.
7) Raise the heat and saute until mushrooms mixture for 5 minutes or cooked through.

SERVING
8) Spoon the sauce over steak and serve hot.