»

Recipes

»

Sauce

»

Steak With Rosemary-Thyme Cabernet Peppercorn Sauce
Steak with Rosemary-Thyme Cabernet Peppercorn Sauce Recipe
This is one of the first recipes I ever created as a teenager. It's an oldie but a goodie in my house. Cracking the peppercorns can be a bit tricky. I used to put whole peppercorns in a plastic re-sealable storage bag, remove the air and whack them until they cracked a bit. This method does have its drawbacks (the cracked pieces can tear through the plastic, leaving little bits of pepper all over the kitchen), but it does work. If you have a fancy pepper mill, set it to the coarsest setting, which is the easiest to use and works best with this sauce. Either way, this sauce is delicious. Try serving it with mashed potatoes or steamed veggies. Putting the sauce on both is great!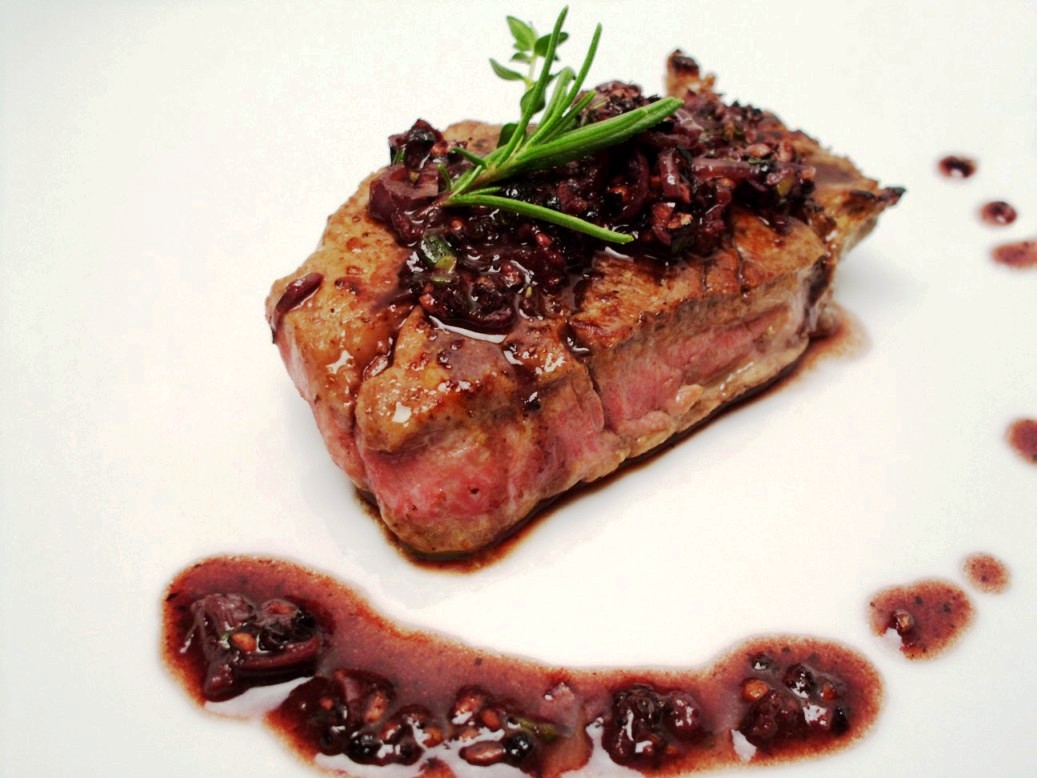 Ingredients
Steaks

2 Ounce

Butter

2 Tablespoon

Sea salt

To Taste

Cracked black pepper

1 To taste

Garlic

1 Clove (5gm)

, minced

Shallots

1/3 Cup (16 tbs)

, diced

Red wine

1 Cup (16 tbs)

Worcestershire sauce

1 Tablespoon

Rosemary

1/2 Teaspoon

, minced

Thyme leaves

1/2 Teaspoon

, minced

1 tablespoon black peppercorns, cracked

Dijon Mustard

1/2 Teaspoon
Directions
Remove steaks from refrigerator and let rest for 10-15 minutes. Melt 1 tablespoon butter in large pan over medium heat. Season steaks with salt and pepper and sear over medium-high heat until desired doneness is reached. Remove steaks from pan and set aside on plates. Cover steaks to keep warm.
Using the same pan, melt the other tablespoon of butter over low heat. Add garlic and diced shallots. Cook until shallots are soft and turning translucent, about 2 minutes (you may be able to cook shallots and garlic just using residual heat from the pan). Once shallots are translucent, add wine, Worcestershire sauce, rosemary, thyme and cracked peppercorns. Mix well and cook on medium heat. Whisk in mustard and simmer until reduced by one-third to one-half. Season with salt and pepper to taste. Pour sauce on steaks and serve immediately.
Fun Tip: Don't like steak? No problem. Try using pork tenderloin instead of steak with the Rosemary-Thyme Cabernet Peppercorn Sauce for a truly elegant yet easy-to-prepare evening meal.
Fun Tip: Have extra herbs you don't want to go to waste? Why not make an infused herb oil? In a small saucepan over low heat, warm 1 cup extra virgin olive oil with several sprigs of rosemary or thyme, being careful not to overheat the oil. Warm mixture for about 4 minutes. Remove pan from heat and let mixture cool. Pour herbs and oil into mason or other type of jar. The herb oil will keep in the refrigerator for 3-4 weeks. Make sure to check the potency of the oil every week. If your herb oil is very flavorful, remove the herbs. This herb oil makes a great addition to salad dressings or drizzled over vegetables.
About Christianne Klein:
Christianne Klein is an Edward R. Murrow award-winning journalist, author, television host and former national news anchor for ABC News. She has appeared on numerous television programs, cooking her favorite healthy recipes, and also worked alongside Chef Emeril Lagasse on an episode of his show "Emeril Green". Known for growing and cooking with her own fresh herbs, Christianne has compiled her favorite recipes, information and beauty tips into one amazing cookbook,
Christianne's Herbal Kitchen: Fresh Herb Recipes for Body and Soul
. Christianne is the founder of
Truth Fairy TV
, a website devoted to health, beauty and inspiration.
For more information or to order a copy of Christianne's Herbal Kitchen, go to
TheHerbCookbook.com.