»

Recipes

»

Squash

»

Squash Saute
Squash Saute Recipe
A nice quick side dish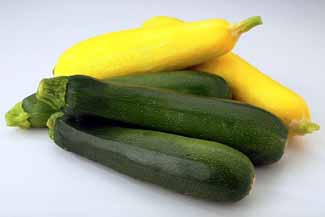 Ingredients
Zucchini

1

, sliced into rings

Yellow squash

1

, sliced into rings

Scallions

2

, chopped

Cilantro

1 Tablespoon

, chopped

Garlic powder/2 cloves fresh garlic

1⁄2 Teaspoon

Olive oil

1 Tablespoon

Kosher salt

1⁄2 Teaspoon

Ground pepper

1⁄2 Teaspoon
Nutrition Facts
Serving size
Calories 103 Calories from Fat 34
% Daily Value*
Total Fat 5 g7%
Saturated Fat 0.55 g2.7%
Trans Fat 0 g
Cholesterol 0 mg
Sodium 245.1 mg10.2%
Total Carbohydrates 13 g4.5%
Dietary Fiber 4.5 g17.9%
Sugars 8 g
Protein 5 g10.2%
Vitamin A 8.6% Vitamin C 18.8%
Calcium 1.9% Iron 3.2%
*Based on a 2000 Calorie diet
Directions
Heat oil in skillet
Saute zucchini and yellow squash for about 3-4 minutes or until tender
Add all seasonings continue to saute for about 2 more minutes
Enjoy!

Just picked a few zucchinis and papaya squash today from my garden. I'll probably add some diced garlic and Stockton red onions also from the garden to this.
Posted on:
26 July 2007 - 7:15pm

Long time no see, no new recipes. Whats up?
Posted on:
1 July 2007 - 3:16am