»

Recipes

»

Cookie

»

Springerle Cookies
Springerle Cookies Recipe
Springerle Cookies!! If you were looking for a winning Springerle Cookies recipe then this is the place to be! In just a short while you have the most delicious Cookies. Hope you try it soon!
Springerle Cookies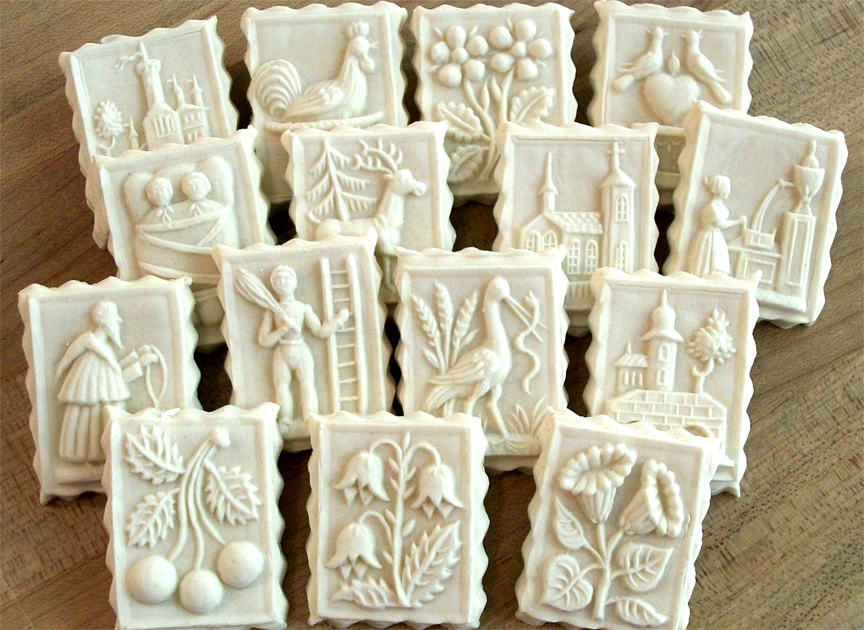 Ingredients
Eggs

4 Small

Sugar

2 Cup (16 tbs)

Butter

2 Tablespoon

Flour

4 Cup (16 tbs)

Cream of tartar

2 Pinch

Aniseed

1 Tablespoon

, crushed
Directions
MAKING
1) Beat the eggs till light.
2) Slowly add in the sugar and keep beating till thick and light yellow.
3) Add in the butter and beat.
4) Slowly add in the flour and cream of tartar and keep beating till stiff.
5) Roll out to a 1/4-inch thickness.
6) Using a flour springerle press, cut through the dough to make a clear imprint.
7) Cut and separate the squares.
8) Lay open for 24 hours and allow to dry.
9) On an greased cookie sheet, sprinkle aniseed.
10) Arrange the cookies over the aniseed.
11) Place in the oven at 300 degrees and bake for 20 to 25 minutes, till the bottom of the cookies turn yellow.

SERVING
12) Store in an air-tight container.
13) Serve as a tea time snack.