»

Recipes

»

Cookie

»

Springerle Cookies
Springerle Cookies Recipe
Springerle Cookies is a delicious snack recipe that you would love to prepare. Try this Springerle Cookies; I am sure you will have a huge fan following for this!
Springerle Cookies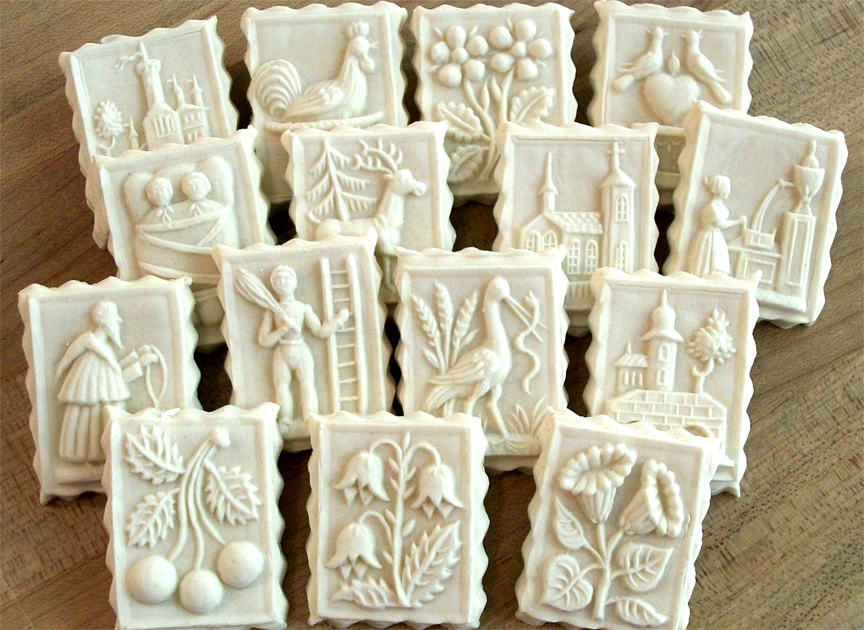 Ingredients
All purpose flour

4 Cup (64 tbs)

, sifted

Baking powder

1 Teaspoon

Salt

1⁄2 Teaspoon

Eggs

4

Granulated sugar

2 Cup (32 tbs)

Grated lemon rind

1 Teaspoon

Anise seeds

3 Tablespoon
Nutrition Facts
Serving size: Complete recipe
Calories 3811 Calories from Fat 280
% Daily Value*
Total Fat 32 g49.2%
Saturated Fat 7.2 g36.2%
Trans Fat 0 g
Cholesterol 845.9 mg
Sodium 1661.1 mg69.2%
Total Carbohydrates 807 g269.2%
Dietary Fiber 20.6 g82.4%
Sugars 402.7 g
Protein 85 g169.6%
Vitamin A 22.3% Vitamin C 26.5%
Calcium 85.1% Iron 245.2%
*Based on a 2000 Calorie diet
Directions
1. Sift together the flour, baking powder and salt.
2. Place the eggs, sugar and lemon rind in the bowl of an electric mixer and beat about thirty minutes at medium speed. Beat in the flour mixture, one-half cup at a time. Chill the dough, covered, overnight.
3. Roll the dough to five-eighths inch thickness on a pastry cloth generously spread with flour.
4. Flour chilled springerle boards or rolling pin. Press into or roll slowly over the dough, bearing down firmly and evenly to leave clear-cut designs. With a floured knife, cut the cookies apart.
5. Sprinkle greased cookie sheets with anise seeds and transfer the cookies to the sheets. Let stand overnight, uncovered, at room temperature.
6. Bake in a preheated moderate oven (325° F.) fifteen minutes, or until thoroughly dried.