»

Recipes

»

German
Springerle Recipe
This Springerle recipe is my mother's favorite. Whenever we are at home during holidays, my mother definitely prepares this cookie. Truly speaking this dessert brings enjoyment to my house. So if you want to bring happiness to your house, use this Springerle recipe.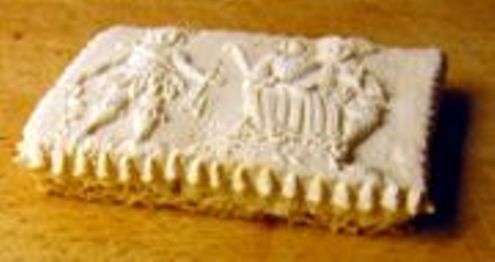 Ingredients
Eggs

2

, well beaten

Sugar

1 Cup (16 tbs)

Butter

1 Tablespoon

, melted

Flour/More flour to roll

2 Cup (32 tbs)

Anise oil

1⁄2 Teaspoon

Honey

1⁄2 Teaspoon

Baking powder

1 Teaspoon
Nutrition Facts
Serving size
Calories 490 Calories from Fat 55
% Daily Value*
Total Fat 6 g9.5%
Saturated Fat 2.8 g14%
Trans Fat 0 g
Cholesterol 113.8 mg
Sodium 135.3 mg5.6%
Total Carbohydrates 99 g32.9%
Dietary Fiber 1.7 g6.8%
Sugars 50.8 g
Protein 10 g19.3%
Vitamin A 4.3% Vitamin C 0.01%
Calcium 11.6% Iron 19.5%
*Based on a 2000 Calorie diet
Directions
Stage1-Beat eggs, add sugar. Beat well.

Stage2-Add butter and anise oil, then honey.

Stage3-Add flour and baking powder. Add more flour if needed to roll out.

Stage4-Use a springerle rolling pin or pressed spingerle board.

Stage5-Put on ungreased pan, let stand 5 or more hours to dry.

Stage6-Bake at 300 degrees fareinhite for for 15 minutes.