»

Recipes

»

Chowder

»

Spring Vegetable Chowder
Spring Vegetable Chowder Recipe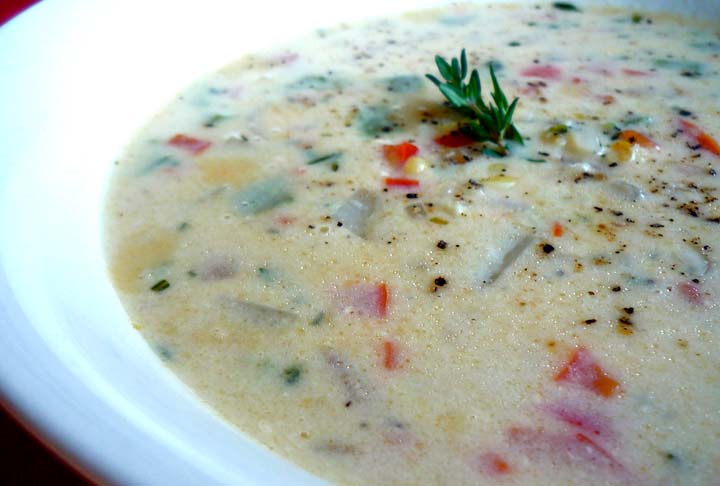 Ingredients
Chopped onion

1⁄4 Cup (4 tbs)

Chopped celery

1⁄2 Cup (8 tbs)

Cored seeded chopped green bell pepper

1⁄4 Cup (4 tbs)

Butter/Margarine

2 Tablespoon

Peeled and diced potatoes

1 Cup (16 tbs)

Water/Vegetable broth

2 Cup (32 tbs)

Dried marjoram

1 Pinch

Dried tarragon

1 Pinch

Whole kernel corn

2 Cup (32 tbs)

(Fresh Or Frozen)

Cut green beans

1 Cup (16 tbs)

(In 1-Inch Lengths)

Flour

3 Tablespoon

Milk

3 Cup (48 tbs)

Salt

To Taste

Freshly ground black pepper

To Taste
Nutrition Facts
Serving size: Complete recipe
Calories 998 Calories from Fat 420
% Daily Value*
Total Fat 47 g72.7%
Saturated Fat 28.2 g141.1%
Trans Fat 0 g
Cholesterol 132.3 mg
Sodium 848.6 mg35.4%
Total Carbohydrates 115 g38.4%
Dietary Fiber 11.2 g45%
Sugars 43.5 g
Protein 34 g67.2%
Vitamin A 38.4% Vitamin C 58.9%
Calcium 84.2% Iron 26.3%
*Based on a 2000 Calorie diet
Directions
Cook onion, celery, and pepper in butter over medium heat until almost tender, stirring occasionally.
Add potatoes, water, and seasonings.
Cover, bring to a boil over high heat.
Reduce heat to medium and simmer until potatoes are tender, about 15 minutes.
Add corn and beans and simmer, covered, 10 more minutes.
Mix flour with 1/4 cup milk, then add to remaining milk and stir to blend.
Pour milk mixture into vegetables and broth and cook, stirring constantly, until slightly thickened.