»

Recipes

»

Lasagna
Spinach Lasagna Recipe
Spinach Lasagna is an amazingly delicious main course meal recipe. Try this Spinach Lasagna dish; I bet you will have a huge fan following for this one.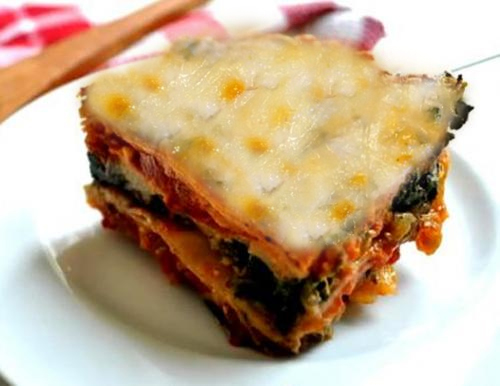 Ingredients
Lasagna noodles

8 Ounce

Frozen chopped spinach package

1

, canned

Cottage cheese ricotta

16 Ounce

Parmesan cheese

3/4 Cup (16 tbs)

, grated

Egg

1

, beaten

Shredded mozzarella cheese

1 Cup (16 tbs)

Oregano

2 Teaspoon

Basil

1 Teaspoon

Parsley

2 Teaspoon

, chopped

Salt

1 Teaspoon

Pepper

1 Teaspoon

Garlic powder

2 Teaspoon

Bay leaf

1

, crumbled

1 large jar of meatless spaghetti sauce

Slices of mozzarella cheese
Directions
Preheat the oven to 350 degrees.
Cook the lasagna noodles using the package directions; cool and drain.
Microwave the frozen spinach using the package directions; drain.
Combine the spinach, cottage cheese, Parmesan cheese, egg, shredded mozzarella cheese, oregano, basil, parsley, salt, pepper, garlic powder and bay leaf in a large bowl; mix well.
Oil a large 9xl3 inch baking dish with olive oil.
Lay one layer of cooked lasagna noodles in the dish.
Layer half the spinach mixture, half the sauce and 3 thin slices of mozzarella cheese over the noodles.
Repeat the layers of lasagna noodles, spinach mixture, sauce and mozzarella slices.
Add a third layer of lasagna noodles and a thick layer of sauce to keep the noodles from drying out.
If desired, add a few more slices of mozzarella cheese over the final sauce layer.
Sprinkle with additional Parmesan cheese.
Cover tightly with foil and bake for 30 minutes.
Bake, uncovered, for 15 minutes longer or until top is lightly browned.
Cool.
Chill, covered, in the refrigerator until ready to heat and serve.
Cover with foil before reheating.