»

Recipes

»

Spinach Broccoli Casserole
Spinach Broccoli Casserole Recipe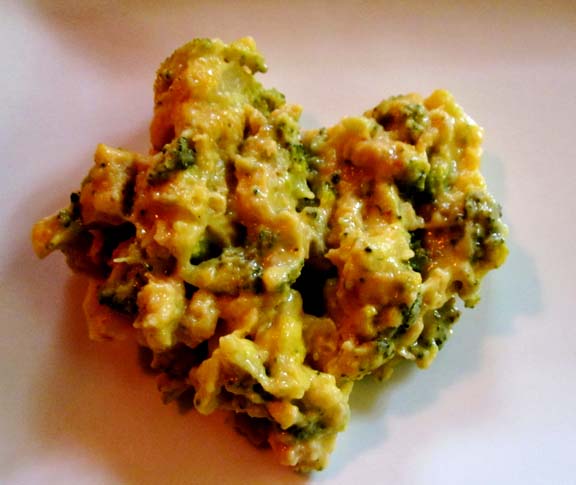 Ingredients
Long grain and wild rice

6 Ounce

(1 Package)

Water

2 1⁄2 Cup (40 tbs)

Butter/Margarine

5 Tablespoon

(1 Tablespoon Plus 1/4 Cup)

Chopped onion

1 Cup (16 tbs)

Sliced celery

1 Cup (16 tbs)

Canned condensed cream of mushroom soup

10 3⁄4 Ounce

(1 Can)

Canned condensed cream of chicken soup

10 3⁄4 Ounce

(1 Can)

Shredded cheddar cheese

1⁄2 Cup (8 tbs)

Diced pimiento

1⁄4 Cup (4 tbs)

Frozen chopped spinach

10 Ounce

, thawed and drained (1 Package)

Frozen chopped broccoli

10 Ounce

, thawed and drained (1 Package)

Grated parmesan cheese

1⁄4 Cup (4 tbs)

Paprika

1 Teaspoon
Nutrition Facts
Serving size: Complete recipe
Calories 2214 Calories from Fat 1109
% Daily Value*
Total Fat 126 g193.2%
Saturated Fat 65.5 g327.6%
Trans Fat 0 g
Cholesterol 273.6 mg
Sodium 5360.7 mg223.4%
Total Carbohydrates 209 g69.5%
Dietary Fiber 23.7 g94.6%
Sugars 18.5 g
Protein 70 g140.3%
Vitamin A 831.2% Vitamin C 598.7%
Calcium 135.4% Iron 113.5%
*Based on a 2000 Calorie diet
Directions
Preheat oven to 350°F (177°C).
Cook contents of rice and seasoning packets with water and 1 tablespoon butter or margarine according to package directions.
In a large saucepan, heat 1/4 cup butter or margarine.
Add onion and celery.
Cook until onion is tender, not brown.
Stir in soups, cheddar cheese and pimiento.
Arrange half the spinach and broccoli in a 12" x 8" baking dish.
Cover with half the rice mixture.
Repeat using remaining spinach, broccoli and rice mixture.
Cover with aluminum foil, crimping it tightly to edges of dish.
Bake 25 minutes.
Uncover and sprinkle with Parmesan cheese.
Return to oven until hot and bubbly, about 10 minutes.
Sprinkle with paprika.