»

Recipes

»

Spinach

»

Spinach And Sesame Seeds
Spinach and Sesame Seeds Recipe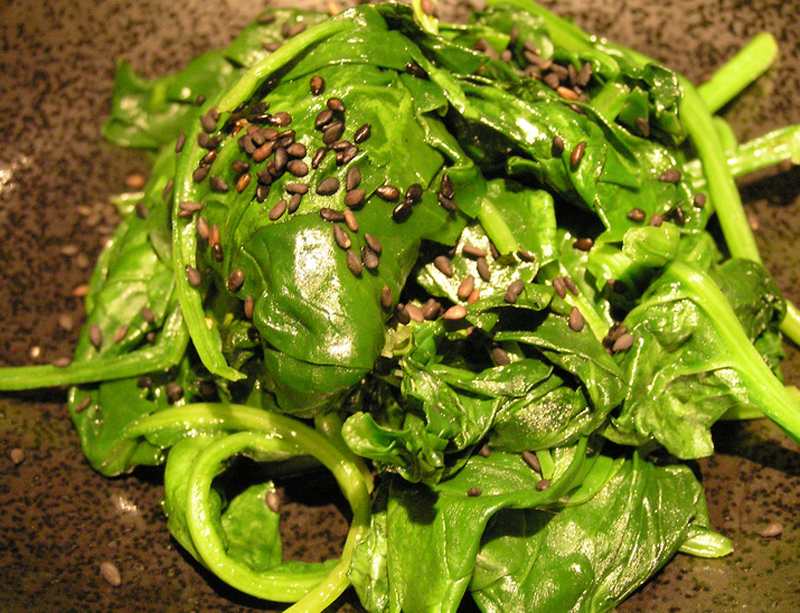 Ingredients
Fresh spinach

1 Bunch (100 gm)

, lightly steamed

Sesame seeds

1 Tablespoon

, roasted in a dry pan

Soy sauce

To Taste
Nutrition Facts
Serving size
Calories 55 Calories from Fat 33
% Daily Value*
Total Fat 4 g6%
Saturated Fat 0.55 g2.8%
Trans Fat 0 g
Cholesterol 0 mg
Sodium 68.5 mg2.9%
Total Carbohydrates 4 g1.2%
Dietary Fiber 2 g8%
Sugars 0.2 g
Protein 3 g5.6%
Vitamin A 93.8% Vitamin C 23.4%
Calcium 12.3% Iron 13.6%
*Based on a 2000 Calorie diet
Directions
GETTING READY
1) In a steamer, lightly steam the spinach.

MAKING
2) On a board, tip out sesame seeds.
3) Form long bundle of spinach with 1 inch width. Roll the bundles over the sesame seeds.
4) Make 1 inch long slices out of the bundles.

SERVING
5) In a small plate, nicely arrange the slices and drizzle some soy sauce for serving.
Image Courtesy :
http://www.flickr.com/photos/laurelfan/182456081/