»

Recipes

»

Pie

»

Spinach And Ricotta Pie
Spinach and Ricotta Pie Recipe
Spinach and Ricotta Pie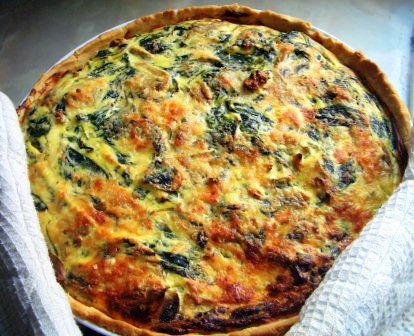 Ingredients
Cheese pastry

1

(For 9 Inch One Crust Pie)

Frozen spinach

3⁄4 Pound

(2 Packages)

Butter

2 Tablespoon

Ricotta cheese/Cottage cheese

1⁄2 Pound

Eggs

3

Grated parmesan cheese

1⁄2 Cup (8 tbs)

Heavy cream

6 Tablespoon

Nutmeg

1 Dash
Nutrition Facts
Serving size
Calories 939 Calories from Fat 633
% Daily Value*
Total Fat 72 g110.6%
Saturated Fat 38.7 g193.5%
Trans Fat 0 g
Cholesterol 504.4 mg
Sodium 1046.8 mg43.6%
Total Carbohydrates 32 g10.8%
Dietary Fiber 5.5 g21.9%
Sugars 5.8 g
Protein 45 g90.9%
Vitamin A 441% Vitamin C 16.1%
Calcium 89% Iron 34%
*Based on a 2000 Calorie diet
Directions
GETTING READY
1) Preheat oven to temperature of 450 degrees.
2) With the pastry, line a pie plate which is 8-inches deep. Flute the edges, prick the bottom and set aside to chill.

MAKING
3) In the butter, cook the spinach and drain properly. Add pepper, salt, beaten eggs, ricotta cheese, half of the grated cheese, a good pinch of nutmeg and cream.
4) Bake the pastry shell for about 15 minutes in the preheated oven, or till it has set, and allow it to cool.
5) Reduce the heat of the oven to 375 degrees.
6) Spread the filling prepared in the pastry shell, sprinkle the remaining cheese all oven and bake in oven for about 30 minutes or till the pastry has browned and the mixture is set and firm.

SERVING
7) Serve hot.